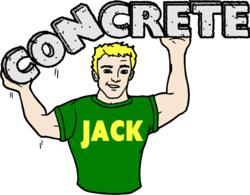 Williamsburg, VA (PRWEB) December 24, 2012
Concrete Jack has launched an updated website, featuring project profiles, increased information about our services and richer media content. Customers may request their quotes online, and even chat with a Concrete Jack staff member.
"Our goal is to make information about concrete settlement and repairs readily accessible for customers, in a method that is self-paced and informative," said Clayton Perry, Business Development Manager. One notable addition is the Project Portfolio section, which provides detailed information and photographs about some of Concrete Jack's projects, from raising small sections of sidewalks to stabilizing dozens of miles of interstate highway.
About Concrete Jack: Concrete Jack is a foam jacking, slab jacking and cellular concrete installation contractor serving the Mid-Atlantic region. Visit us online at http://www.ConcreteJack.com to learn more.