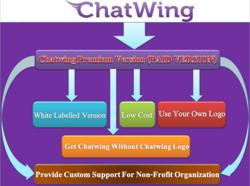 San Francisco, CA (PRWEB) December 24, 2012
Chatwing, the leading innovator chat application creator has added features that will make users chatting experience more dynamic and enjoyable. Web admins and bloggers, who installed Chatwing's chat software, can now upload photos to become their widget's background image. Selecting the appropriate and enticing image related to the web and blog content can greatly contribute to the sites' traffic. Powerful visuals are reliable for attracting attention.
Chatwing team also factored in MP3 upload as one of the latest development of the shoutbox. Listening to music while discussing about interesting topics will certainly provide chatters with a quality chat experience.
Chatwing's highly customizable chatbox lets its users express their creative sides since they can modify the widget's size, colors and choose a specific form to fit their sites. For a more advanced modification, bloggers can explore the CSS customization option.
When it comes to reliability and efficiency in providing real time communication Chatwing has already benefited many users across the globe. Chatwing's regular chat box form and pop-up window style are capable of 1000-user accommodation. Chatwing has cool emoticons and avatars that can be used in role-playing and entertaining interactions- ideal for creative brainstorming.
Another useful feature of Chatwing's chatbox is the social integration option. Being active in social media networks like Facebook and Twitter will greatly contribute to a website or blog's online visibility and traffic. Regularly updating one's Facebook or Twitter account with the latest chat interactions will improve web presence and will attract more visitors to the site.
Online entrepreneurs, marketers and amateur bloggers are advised to be always aware of the available tools and strategies on the Web to improve online performance. Chatwing on the other hand commits to continuously develop chat applications that will address online communication needs.
About Chatwing.com
Chatwing.com specializes in the new field of website chat. Over years, the Chatwing team has introduced live chat widget for hundreds and thousands of blogs. The Chatwing application bridges people from many parts of the world, creating global synergy through the Internet. The shout box can be installed in just seconds, and it can be used for varying purposes such as leisure and Internet marketing. It also allows a user to customize the size, color, and name of the widget.