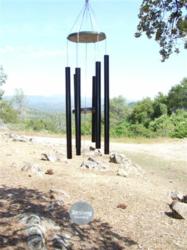 This promotion is Eco Wind Chimes' way of promoting small businesses in America during the New 2013 Year.
(PRWEB) December 30, 2012
Eco Wind Chimes sells wind chimes online. The company, known for promoting American consumerism, sells wind chimes that are meant to "last a lifetime." The company has also launched an online coupon code called "NEWYR" and it is offering a special discount to people seeking to buy wind chimes during January of 2013.
"My consumers don't want to buy products from China," said owner, Stephen Betzen. "Given our country's current economic challenges, I decided to launch an online promotion that will give my customers, new and old, an added discount on any wind chimes purchased on our official website! It is my way of promoting small businesses in America during the New 2013 Year."
Eco Wind Chimes recently donated a portion of sales to the North Texas Food Bank. And, the company has also launched a social store via the Eco Wind Chimes' Facebook page. "This promotion is simply targeting our website customers. All they have to do is visit the website, purchase a wind chime, and use the promo code 'NEWYR' upon checkout to receive a special discount!" The official web address can be accessed here: http://www.ecowindchimes.com
About: Eco Wind Chimes was launched in 2005. The soothing products produced by Eco Wind Chimes match the company's dedication to quality workmanship, affordability, and purposeful retail. All Eco Wind Chime products are made, and sourced, in the USA. More information, and a media kit, can be found by clicking here: http://www.ecowindchimes.com