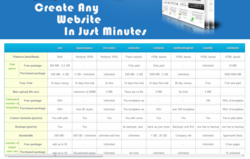 Websitebuilder.net has professionally evaluated dozens of website builders, and the resulting comparison table provides information on each and every element of website building
(PRWEB) December 27, 2012
Websitebuilder.net has become one of the leading experts on website building, having tried and tested many since its inception. It knows exactly what the potential website owner needs from a website builder, and how to help him get the best results from the one he chooses.
Choosing a website builder is not always easy; the main difficulty is that every website has its own specific requirements, and not all website builders cater for this. A website builder comparison table is the perfect solution for someone who is looking to create a website that will increase his share of his particular market, whether global or local. The team at Websitebuilder.net has put together a comprehensive and informative comparison table that makes choosing the right website builder as simple and fuss free as possible, no matter what the user demands.
So much is expected of a website these days; the retailer needs an electronic storefront to enable him to showcase his wares to the widest possible customer base, and the service or information provider needs an online presence to increase his target audience. Not so long ago, anyone looking for a product or a particular service, would automatically search the telephone directory; today, eighty percent of people will look to the World Wide Web for their requirements, which just goes to show how important that online presence really is.
Websitebuilder.net has professionally evaluated dozens of website builders, and the resulting comparison table provides information on each and every element of website building, making it easy for the potential user to choose the one that would best suit his demands. For each website builder, the table has all the necessary information on platforms, price plans, including whether or not there is a free package or a free trial, number of templates available, upload file size, and custom domains. Also listed are details on bandwidth, disk space, number of pages, Widgets, and other elements such as ecommerce, email, and mobile sites; in fact everything a new user needs to know.
The new comparison table provided by Websitebuilder.net has given users the expertise they need in their search for the perfect website builder. Choosing the right one has got a whole lot easier.