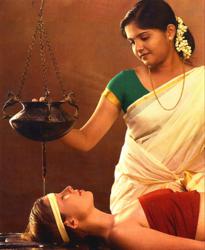 Ayurveda the Age old science of Holistic health
New Delhi , India (PRWEB) December 25, 2012
Santhigram Kerala Ayurvedic Company Ltd launched its new website for India region, http://www.ayurvedasanthigram.com.
Santhigram Kerala Ayurvedic Company Ltd , the decade-old chain of Kerala Ayurvedic Panchakarma Centres in India and abroad, announced on Tuesday that it has launched a new website (http://www.ayurvedasanthigram.com). Dr. Gopinathan Nair, Global President and founder of the company said "we have launched a new website for India region, to keep up with demand for direct to consumer internet based services (appointment scheduler, wellness membership, coupons etc.) and to integrate social media platforms for improving patient feedback and referrals."
The new website continues to be an engaging informational portal on Ayurveda and provides detailed information on Kerala specific Ayurvedic & Panchakarma therapies and various other Ayurvedic Wellness Therapies. The company has tied up with "Spa booker " system in providing state of the art online appointment scheduling, revenue cycle and customer relationship management system. The website is very intuitive and is well integrated with facebook , twitter, YouTube etc., for assisting in enhanced social media monitoring and marketing campaigns .
The "Kerala Ayurvedic Wellness Therapies" Santhigram offers, reduce the physical suffering, manage disabilities, treat obesity and mental tension, enhance body and skin luster, ward off the middle age syndrome, retard aging process, provide self healing of body and mind by repairing worn out tissues, revitalizing , increasing memory , improving vigor, vitality and promote holistic health. Various Ayurveda & Panchakarma packages Santhigram offers help to alleviate specific problems like, Back Pain, Neck Pain, Frozen Shoulder, Sinusitis, Migraine, Joint Pain, Arthritis, Insomnia, Depression etc.
Ayurveda offers health solutions that deal with the methods to help bring a person into a state of complete balance. These solutions are not restricted to sophisticated formulas or medicine but goes to the extent of prescribing a personalized life style for each individual. The intensity of the diseases determines the kind of health solution. If it is a recent illness or disease it can get treated by home remedial measures but in a chronic situation where the disease has spread from one body system to another, the treatment requires a full range of Ayurvedic formulas that includes health massages, Panchakarma (detoxification) therapies, ayurvedic medications and specific diets.
Santhigram Kerala Ayurvedic Company Limited is an ISO 9001 certified company which operates three Ayurvedic Centers, one with inpatient facility in Delhi and is developing an Ayurveda Resort facility in Kerala, India. According to the Chief Executive and Global President of Santhigram, Dr. Gopinathan Nair, "the company introduced an ambitious plan for selling very cost effective franchise license for its centers in India ", for details visit website or email to delhi(at)ayurvedasanthigram(dot)com.