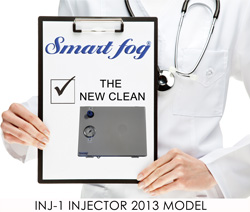 Inject any water-soluble sanitizer, disinfectant with the system. Full featured precise digital injector for humidifiers.
Reno, NV (PRWEB) December 26, 2012
Smart Fog Inc announced this week the release of 2013 INJ-1 humidifier injector. The INJ-1 is a fully automated precise chemical injection system.
"When injecting chemicals into any environment accuracy and accountability is key, Smart Fog has developed an economical injector to answer this growing need," explains Ido Goldstein, director at Smart Fog.
The injector can be utilized as an accessory to any existing or new Smart Fog commercial humidification system.
The industrial grade injector features 24/7 operation capability and ideal for a wide range of applications, including food safety, room disinfection, hospital, HVAC disinfection and many more.
2013 Model Features 2 Humidifier Injector Types:
Type 1: Low Pressure Humidifier Chemical Injector
Model: INJ-1L2013
Release date: January 1st 2013
Maximum main line pressure: Up to 14 psi
Maximum standard flow 120 mL/min (1 Injector per zone)
Type 2: High Pressure Humidifier Chemical Injector
Release date: January 1st 2013
Model: INJ-1H2013
Maximum main line pressure: Up to 100 psi
Maximum standard flow 200 mL/min
Standard Features:
Control Concentration Ratio from 1:5 to 1: 5000
Chemical Sensor (detects if there is no chemical)
Water sensor (detects if there is no water and stops injection)
Injection ON/OFF Switch for each zone
"Smart Fog humidifier injector is completely automated the INJ-1 can be set to operate differently for each zone, different concentration and different chemicals," adds Goldstein. "Each function data in the injector is recorded in detail and available for audit purposes."
About Smart Fog
Smart Fog Inc. is the recognized world leader in the industrial and commercial humidification systems, food safety, disinfection and dust suppression systems. For over 30 years, Smart Fog has provided superior service to customers world-wide, and the corporate commitment to excellence has earned the reputation as the best in the industry. All Smart Fog commercial humidifiers and disinfection equipment are manufactured in the U.S.A. using the highest grade raw materials.
For more information, visit: http://www.smartfog.com.