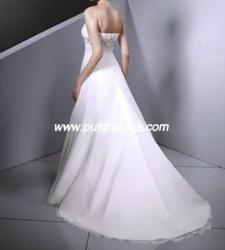 (PRWEB) December 24, 2012
Recently, Putdressus.com has proudly introduced its wedding dresses 2013 collection, and launched a wedding dress promotion, up to 50% off, for the holiday shopping season. According to Freddie Wong, CEO of Putdressus.com, the promotion lasts from Dec. 22, 2012 to Jan. 15, 2013, and they are ready for the holiday shopping season, which would be a great business opportunity for the whole industry.
The new collection is based on the wedding dresses 2012 series of the company, but many latest designs, like empire waist wedding dresses, princess wedding dresses and lace wedding dresses, have been added. All the wedding dresses from Putdressus.com are with these several characteristics: rich choices, fine tailoring, meticulous production and effective transport services.
Putdressus.com offers thousands of wedding dresses in different colors and styles, and customers can find their favorite dresses by browsing through the catalog online. Putdressus.com has vowed to spare no energy to provide a great range of products for costumers as well as fast delivery.
Freddie Wong said, "Most wedding dresses are available now with great discount, up to 50% off, and we hope to show our appreciation to our loyal customers through such a promotion."
In addition to a wide range of wedding dresses, Putdressus.com has also announced that they would carry a vast selection of cheap watches and red bottom shoes. These watches are made from a variety of nickel-free solid jeweler's brass, embellished with sterling silver, copper, and brass.
About Putdressus.com
Putdressus.com is one of the best online shops for buying wedding dresses at acceptable low prices, and its main products include cheap wedding dresses, bridesmaid dresses, evening dresses, and other wedding accessories. They are devoted to helping couples design their own wedding dresses without sacrificing the top-quality materials and fast delivery.