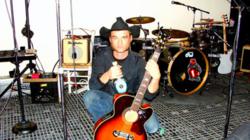 Santa Fe, New Mexico (PRWEB) December 23, 2012
As predicted by experts around the world for several weeks and months prior, including NASA, the day Dec. 21, 2012 did not end with the cataclysmic end of the planet. To celebrate this fact, Santa Fe, NM, rock band Anthony Leon and The Chain teamed up with SilverCoin™ Tequila, the flagship product of Santa Fe Tequila Company LLC, and Cowboy Up Energy Drink and threw a hoe down party the evening of Dec. 22, 2012. The party featured three sets by the band, which played all of their major hits, including such fan favorites as 'Brand New Model', 'She Loves Me' and 'White Dress'. Part of the celebration was also because the band played and announced the release of two new singles, 'The Sinner' and 'Aim to Please'. The band also announced the release of their Christmas album, 'Exile on 34th Street', which was available for sale at the party. The group is part of the SantaFe.com Band Directory.
About Anthony Leon and the Chain -
Once a generation an artist comes along that defies description; one that breaks all the rules; one that creates their own genre. A songwriter that wears his influences on his sleeve, and is powerful enough to mention alongside those groundbreaking music icons: Hank Williams, Jimmie Rodgers, Townes Van Zandt, Gram Parsons, Johnny Cash, Dwight Yoakam, Keith Richards, and Tom Petty. Anthony Leon is that and more.
Anthony discovered his talent for composing words and music as a child growing up in the mountains of Virginia. At the age of thirteen, he made the trip to Sun Studios in Memphis, where he recorded his first original piece, "Granddaddy's Guitar" – which he still plays today. In fact, he's been performing live since the age of fifteen, and continues to move audiences with the lyrical imagery of his songs, the power of his acoustic guitar work, and his "straight from the gut" vocals, and "straight from his heart" delivery. While watching Anthony in concert, it is not unusual to see him shed a tear while he sings songs that force their way right into your soul. He has the intensity and stage presence to stop a room in its tracks, and make an audience bask in the power, the purity, and the passion of his music.
Anthony Leon and The Chain's songs have the ability to truly touch their listeners. They write of love lost and found, life's rewards and regrets, and the search for truth, purpose, and meaning in what may sometimes appear to be a meaningless world. They're not afraid to sing about sin and redemption -- about real human feelings and behavior.
Whether performing one of their own compositions, or one from one of their musical heroes, Anthony Leon and The Chain wring every last bit of emotion from each and every song during their shows. No nuance. No subtlety. No retreat. No surrender.
SilverCoin Tequila, a party sponsor and the flagship product of the Santa Fe Tequila Company LLC, and Anthony Leon and The Chain, reminds everyone to always drink responsibly.
Contact Information:
Anthony Leon
http://www.reverbnation.com/anthonyleonandthechain
505.471.9133
Anthonyleonandthechain at gmail dot com
About SantaFe.com
SantaFe.com provides locals and visitors to Santa Fe alike the most current interactive platform for events, music, arts, business, dining and lifestyle. SantaFe.com is a division of Hutton Broadcasting, located at 2502 C. Camino Entrada, Santa Fe, NM 87507
Contact Information:
Scott Hutton
SantaFe.com / Hutton Broadcasting
http://www.santafe.com
(505) 471-1067 (Media inquiries only, please)