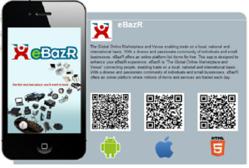 The First and Last place you will want to Look !
(PRWEB) December 26, 2012
eBazR,s Online Marketplace currently provides eight diverse markets:

Auctions: is an online auction and shopping website in which people and businesses can trade, buy and sell their products and services globally, Formats include: Buy it Now, Fixed Price, Dutch and Live English auction.
Blogs: is a free blog-publishing tool from eBazR for easily sharing your thoughts with the world. eBazR Blogger makes it simple to post text, photos and video onto your personal or team blog.
Classifieds: Ads for cars, jobs, flats and much more. Sell or buy anything on a local, National and Global basis, quick and free.
Homes: is an online real estate property portal for properties for sale and to rent from the top estate agents and developers in the world
Jobs: is an employment job board, eBazR premier global online employment solution for people seeking jobs and the employers who need great people as a "job board" to a global provider of a full array of job seeking, career management, recruitment and talent management products and services.
Motors: is a site where sellers list cars for sale, so you're not dealing with the reliability of the site - it's down to the individual sellers, Buy and sell autos, trucks, parts, motorcycles, boats, accessories, and other used cars and vehicles on eBazR online auction site find, list, buy and sell, used cars, autos, motorcycles, car, used car, truck, parts, accessories, boats, online auction.
Stores: Start your own business and sell bulk items, Build, Easily create a beautiful, hosted online store, Manage, Process orders, manage inventory and sell more, Grow Get found on Google, eBay, Facebook and much more
Trades People: The Smarter Way to Find Tradesmen! And A Smarter Way to Find Customers, Find local recommended tradesmen who've been approved by others. Post a job, get a quote and pick the most reliable tradesman with the best reviews!, become a member of the largest rated tradesmen directory, receive potential leads for jobs in your area and see your business grow, introduces people with home improvement projects to tradesmen who have been rated and recommended by others.
eBazR.com, offers a viable alternative to popular online trading sites such as eBay, Amazon without the high fees. It also features optional social networking tools, such as instantly posting your listings on Twitter and Facebook, so that you can promote your products quickly and easily.
eBazR.com provides both professional traders and people who want to make money and sell unwanted personal items the ability to buy and sell across the world in their own currency. This makes tapping into a global marketplace easy and risk free for Manufacturers, Wholesalers, Retailers of all sizes and individuals who want to make extra money listing their Goods and services.
eBazR has just launched its new free mobile application with augmented reality functionality. By exploiting the latest digital technologies, eBazR invites its customers to explore the uncompromising quality on the eBazR Marketplace, and to find, Buy, Bid and Sell your Goods, Items and Services in a fun and unexpected way.
"At eBazR, we have a passion for creativity and for all kinds of digital means of expression. We continuously try to bring our customers exceptional experiences, and by using augmented reality, we are adding a digital layer around our products and Services. The application is one part entertainment and one part service. Ultimately, it adds excitement and value to anyone who trades on eBazR Marketplace", says Elliot Carver, Global Marketing Manager at Carver Media Group.
To try the app, the user needs an augmented reality visual code that comes with this release. Consumers that cannot get hold of the QR Code can download and print a tag from eBazR.com. "In an intriguing and visually stunning way, the application shows how eBazR goes to unnecessary lengths to make a good ,safe trading environment", Elliot Carver, continues.
The FREE Mobile App can be downloaded for from ITUNES App Store and Google Play
The eBazR Marketplace mobile app is available free for iPhone 3GS, 4, 4S, iPad2, Android and Blackberry on eBazR, It was created by eBazR in collaboration with Carver Media Group, the digital agency of eBazR Plc.
Visit http://www.eBazR.com to find out more and take advantage of online trading across the world.
For further information, please contact:
Elliot Carver
Global PR Manager, Carver Media Group
Email: sales@carvermediagroup.com
Web: http://www.carvermediagroup.com
Tel: +44 (0) 203 603 5359