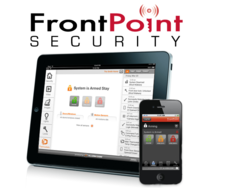 FrontPoint's cellular monitoring service offers ultimate flexibility and convenience to the homeowner...
Chicago, IL (PRWEB) December 23, 2012
Home Security Journal reports on FrontPoint Security's wireless home security systems and cellular monitoring:
Wireless Equipment
All of the sensors and alarms FrontPoint Security provides are wireless from GE Security. The equipment can be installed by the house owner without professional help. It is ideal for homeowners or renters who hate the idea of bunches of wires or holes caused by drilling into walls. This system is completely free from wires and maintaining it is simple.
Cellular Monitoring & Smartphone Apps
Cellular monitoring helps customers to experience an extra level of protection when integrated with home security appliances. FrontPoint's cellular monitoring service offers ultimate flexibility and convenience to the homeowner. Apps can be incorporated into a smartphone or PC to enable people to keep an eye on what's happening at home. Now parents still at the office can watch their kids doing homework or see what time they arrive in from the school when left home alone with this service.
30-Day Trial
The company offers a 30-day trial on all its products to ensure customer satisfaction. The customer is free to exchange the products in case of a defect. The trial also enables clients to try different security devices and choose the best device for their home.
Free Environmental Monitoring
Home security does not end with protecting one's home from burglars; it also involves protecting the structure as a whole. Environmental monitoring systems can be installed to report to the house owner in case of a cracked drain or burst pipe due to sudden temperature change.
If the expense of buying a home security system is hitching one's budget and they are looking for a company which has products at affordable prices then they should choose FrontPoint Security. The company has several money saving options for its customers.
Free Shipping
FrontPoint Security frees its customers from shipping charges. This is definitely going to help them save money.
FrontPoint Security offers 24x7 services for its customers.A customer can request the services of the company at any time of the day and their executives are always on call.
Contact
Customers can call 866-363-2035 for any assistance or visit FrontPoint Security's site to get an instant quote.