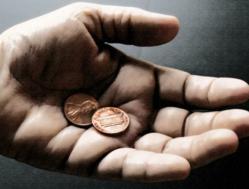 Contrary to popular opinion, hard work and success are not synonyms.
Jacksonville, Florida (PRWEB) December 27, 2012
Contrary to popular opinion, hard work and success are not synonyms. Many a contestant in a tree cutting event can verify that it's not always the person who swings the axe the most that wins, but the one with the sharpest blade. As 2013 arrives and as personal and professional financial goals and dreams are established, it's important to concentrate on not solely the hours that are needed, but what to do with these hours well. If a path (or several) exists to get on the road to financial freedom and or spiritual wealth, how is it discovered and where does it exist?
Fortunately, the subscription service through "Your Two Sense Worth" has the answers to many of these questions via its daily messages. What exists are 365 original empowering thoughts, insights and or perceptions that help the reader position the mind in a way that attracts wealth in almost a magnet like fashion. Filled with motivational thoughts designed to promote personal growth, if used properly, can be a highly effective tool. Once potentially life changing messages are attracted, they then grow in a fertile environment which eventually leads to success as defined by the subscriber. It in affect sharpens the mind so it can cut through the myriad of garbage that gets in the way of accomplishing the goals and dreams desired.
Obviously, the meaning of "success" is an extremely subjective word, and means different things to different people. Regardless of the meaning, achieving it seems to be a popular item on end of the year "to do" lists. Absorbing the often "not so obvious" meanings in the writings of "Your Two Sense Worth" assist in not only reaching goals and dreams, but in the equally important task of deciding what indeed these goals and dreams should be. Clarity is developed where confusion and doubt used to reside.
It has been stated thousands of times in hundreds of ways that what can be thought and believed, can be achieved. Though this may or may not be the entire answer, it certainly must be considered as an extremely important ingredient in the recipe for personal accomplishment. In addition, a "sharing" element on the "Your Two Sense Worth" site exists ("Forums") whereby subscribers can not only express what these daily thoughts mean to them, but also are encouraged to provide additional insights and meanings of their own for others to consider. Like any good recipe, not only is it wise to follow directions, but to lead others to new ones for their own culinary pleasure. As 2013 emerges, it's time to get the nourishment needed to fully enjoy this exciting and sometimes more predictable than believed journey called life. Happy trails.