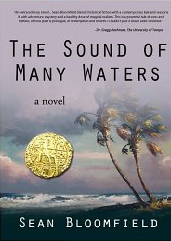 The Sound of Many Waters, which has earned rave reviews as a Kindle ebook and regular book on Amazon, follows two interwoven stories.
St. Augustine, Florida (PRWEB) December 24, 2012
According to legend, there are many secrets hidden in the wilds of Florida, and readers of a new novel will discover the location of a treasure—plus get the chance to win one.
To highlight the theme of his new book, Sean Bloomfield, a Florida author, will give away a real Spanish "piece of eight" to one lucky reader. He hopes that the contest will help his novel stand out from the ever-increasing number of Kindle ebooks and self-published books available online, and he plans to give away more treasure coins if the promotion is successful.
The Sound of Many Waters, which has earned 5-star ratings and rave reviews as a Kindle ebook and regular book on Amazon.com, follows two interwoven stories. The tales, divided by four hundred years, are both set in Florida.
In one story, a ruthless New World conquistador must fight to survive in the wilds of "La Florida" when a hurricane sinks his treasure-laden ship off the coast.
In the present day story, a young Palm Beach fishing guide is forced to flee into Florida's dark underbelly after he discovers a mysterious package floating in the Gulf Stream.
Despite the four centuries that divide them, the two characters each discover the same extraordinary secret and their stories converge in what one reader described as "the perfect surprise ending."
Sean's former writing teacher at The University of Tampa, Dr. Gregg Bachman, called The Sound of Many Waters "an extraordinary novel." He went on to say "Sean Bloomfield blends historical fiction with a contemporary tale and seasons it with adventure, mystery and magical realism. This is a powerful tale of sons and fathers, of how past is prologue, of redemption and rebirth."
But the best reviews, says Sean, are the ones coming from people he's never met before. Amazon reviewers have praised The Sound of Many Waters as "a treasure" and "a gripping roller-coaster ride." The book ranked as high as #2 in Amazon's Historical Fiction category for free Kindle ebooks during a recent promotion, when it was downloaded by nearly 5,000 people over a period of only three days.
The number of daily purchases continues to increase, and 5-star reviews are rolling in. Sean is hopeful that the positive reviews will result in more readers, and more sales.
"I get excited and nervous every time I see a new Amazon review for my book," said Sean. "It's a rush, and sometimes I find myself refreshing my book's listing page every few minutes just to check for new reviews. It's fascinating to read feedback from complete strangers and to know that they were somehow affected by my story."
Sean decided to self-publish the novel instead of spending much time seeking a traditional publisher because he noticed a trend: an increasing number of self-published authors were finding success, especially with the growing popularity of ebooks.
"I was inspired by the success stories," said Sean. "For example, author Hugh Howey, who started out like so many Indie authors, has sold a huge number of books and recently inked a major publishing deal. I also liked the fact that I could publish my book within a few weeks as opposed to waiting a year or more for a traditional publisher to get it out there. I guess I'm impatient."
Aside from being a newly published author, 33-year-old Sean Bloomfield is also a filmmaker and a former fishing guide. He has a degree in Creative Writing from The University of Tampa, with a double major in Communication and Film. He has produced seven documentary films with subjects ranging from Rwanda to Bosnia-Herzegovina, where he has traveled many times. This is his first novel, but he's optimistic that its success will continue to grow.
"If the early reviews are any indication," he said, "people are talking about the novel and spreading the word. I can do all the marketing in the world, but I think self-published success usually happens through word-of-mouth."
But Sean is not just relying on buzz and reviews to sell his novel. He created an online quiz at his website, SeanBloomfield.com, to encourage people to buy and share the book. Readers can go to the website and answer three questions to prove they have read the novel. If they answer all of them correctly, they are entered into a recurring drawing. The grand prize? A real Spanish coin from one of the famous 1715 shipwrecks found by Mel Fisher off the east coast of Florida.
Sean, an avid scuba diver, has himself searched for Spanish doubloons in the waters around Florida, but the treasure he hopes to find now is literary success.
The Sound of Many Waters is available at Amazon.com.