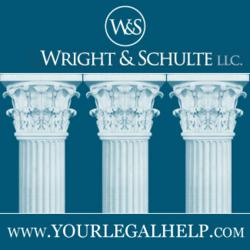 Richard Schulte, founding partner of Wright & Schulte LLC, will appear on Fox's The "Moore Law" Show on Christmas Eve to answer your product liability questions and what you can do if injured due to a defective product.
Cincinnati, Ohio (PRWEB) December 24, 2012
Attorney Richard Schulte, an experienced product liability and personal injury lawyer in Ohio, and founding partner of Wright & Schulte LLC, will be appearing on the Fox's Cincinnati television show Moore Law on Monday December 24, 2012 at 9:30 A.M. EST. During his appearance on the show entitled "When a Product Hurts You," Richard Schulte will be answering questions posed by viewers who are calling in for legal advice. Viewers can also pose their legal questions for Mr. Schulte on Facebook before the show airs at 9:30 A.M. [http://www.fox19.com/category/233197/moore-law-on-fox19-with-don-moore-and-deb-haas
Some of the topics that Richard Schulte of Wright & Schulte LLC will be fielding include (but are not limited to) who is at fault when people are injured by products and what injured parties can do in order to learn more about their rights and hold the responsible parties accountable. Among the more recent types of product liability cases that Wright & Schulte has taken on include Skechers lawsuits, (MDL 2308), Imprelis herbicide lawsuits (MDL 2284), defective baby products lawsuits, defective medical device lawsuits, etc.
During his television appearance, Richard Schulte will be focused on informing the public that the age-old notion of "buyer beware" is not an untouchable standard and that people who are injured by defective products may be entitled to compensation for their injuries and losses. Depending on the circumstances of a particular case, injured parties may be able to file a product liability lawsuit against a defective product's manufacturer, designers, wholesales and retailers.
Some of the common bases for product liability lawsuits include claims of manufacturing defects, meaning that the product was not assembled or made correctly or safely; design defects, in which a product was inherently designed to be defective or unsafe; and failure to warn claims, in which the public was not adequately informed of the risks associated with a potentially dangerous product.
About Wright & Schulte LLC
Wright & Schulte LLC, a leading personal injury firm, is dedicated to the belief that America's legal system should work for the people. Every day, the attorneys of Wright & Schulte LLC stand up for the rights of people who have been injured or wronged and fight tirelessly to ensure that even the world's most powerful corporations take responsibility for their actions. If you're looking for a law firm that will guarantee the aggressive and personal representation you deserve, please do not hesitate to contact Wright & Schulte LLC today. Free case evaluations are available through yourlegalhelp.com or by calling 1-800-399-0795.
Contact:
Wright & Schulte LLC
812 East National Road
Vandalia, Ohio 45377
1-800-399-0795