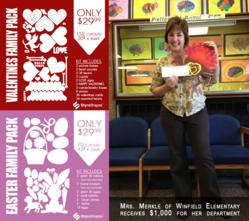 When I learned that some schools' art budgets were as little as $3 per student, I thought we should lend a hand
Baltimore, MD (PRWEB) December 27, 2012
One can't turn on the news these days without hearing of the impending "Fiscal Cliff". But it's commonly known that our schools and non-profits face a fiscal cliff dilemma year after year as they operate under increasingly tight budgets. When StyroShapes, a subsidiary of Baltimore-based Universal Packaging, introduced a new arts and crafts-oriented product line, they sought to benefit cash-strapped schools. "When I learned that some schools' art budgets were as little as $3 per student, I thought we should lend a hand." said CEO Ryan Rush, 34.
StyroShapes, a maker of oversized foam cut-outs in a variety of shapes for crafting and educational ends, donated bulk units of their newly-developed Thanksgiving variety line -- featuring a Native American figure, a Pilgrim hat, turkey, stalk of corn, maple leaf and cornucopia -- to each of the participating 10 local Baltimore County schools, totaling some 840 individual foam cut-outs for the contest.
Third grade art students were tasked to individually decorate their own shapes; and each school selected their favorite piece to enter into an online voting contest between all 10 schools. Prizes -- $1,000 to the winning school, $500 to the runner-up, and $250 for placing third -- were awarded to the art departments.
The Facebook-based contest was gripping to the very end, with the lead, at various points, belonging to almost all of the participating schools. Winfield Elementary of Milford Mill, a late entrant, quickly rallied their community to shoot up to first place and ultimately won top prize with their brightly painted turkey. Orems Elementary's feather and bead adorned gobbler received enough votes to clinch second place for the Middle River school. Third place was awarded to the glitter-coated artwork from Parkville's Pine Grove Elementary.
Through misty eyes, beaming Winfield Elementary art teacher Ms. Merkle explained that their school kiln has not once been used citing a lack of funds to purchase clay, glaze and the like. She further explained the dire needs of her students, the vast majority of whom are living at or below poverty level -- some even in group homes or in a nearby church. Thanks to their $1,000 winnings from StyroShapes, she'll be able to purchase much needed pottery supplies providing an important creative outlet for her students. Second place winner, Orems Elementary has allocated the funds to upcoming field trips and Pine Grove purchased art supplies. All three schools bought a special gift for their winning student artists.
"We, at once, were fortunate to serve our community and gain exposure to our new product line -- a win-win to be sure. We aren't stopping here. We have future plans for similar worthwhile projects which are sure to again engage student interest." added Mr. Rush, alluding to their upcoming national Easter/Passover contest. Another new line for StyroShapes, the $29.99 3D religious-themed kits pull double duty, acting not only as fun-filled crafts, but also as important visual teaching aids. Interested organizations may e-mail sales@univpack.com. Still in its preliminary stages, the company is seeking congregations, synagogues and related organizations interested in participating.
Until recently, StyroShapes has only offered bulk quantities used by schools, churches and other organizations. However, in response to repeated requests, they're introducing their popular 3D lines in family-sized kits, all the while maintaining the low price tag of their bulk packages – such as their recently released Valentines Family Pack of 152 cutouts, priced at 20 cents per shape totaling at an unbeatable $29.99. Future releases will include family kits for holiday crafts & decorations, foam letters & numbers, puzzles, maps, animals, etc. StyroShapes can be found online at http://www.buyfoamblocks.com.