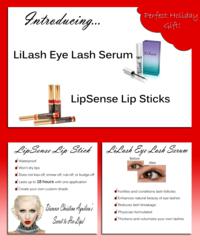 Bay Harbor Islands, FL (PRWEB) December 27, 2012
Now Bal Harbor Bouari Clinic has brought out an exciting new makeup line, physician formulated to give users long, lush lashes and full, bold brows. LiLash Purified Eyelash Serum fortifies and conditions lash follicles to bring out and enhance the natural beauty the lashes already possess. Formulated to reduce lash breakage as well as making lashes lush and long, LiLash is the solution extension wearers have been searching for. No more extensions – the lashes will be more beautiful than an artificial imitation! The highly concentrated formula requires very little to work – results come with applications of just one stroke. Read more about LiLash here: http://www.lilash.com/pages/LiLash.html .
LiBrow Purified Eyebrow Serum is the LiLash solution to sparse, patchy, and thin brows. Physician formulated to give users full, youthful, and bold brows; it fortifies and conditions the brow follicles to provide the brows that currently can only be penciled in. Its unique tinting agent darkens the brows to provide a bold look as well as fullness. It even eliminates the need for a lot of the makeup that is currently used to artificially achieve a similar look. Would it not be better to have those brows naturally?
The LiLash line of products meets the needs of consumers by providing products that allow them to enhance their own natural beauty and reduce their dependency on other products to provide the look they want artificially. As always, this is Bal Harbor Bouari Clinic's focus. Whether it's through natural, organic face lifts that help clients look younger non-surgically, or through their makeup products which enhance the natural beauty inside every user, Bal Harbor focuses on using natural means to achieve greater self-confidence and beauty.