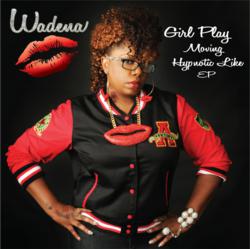 There is no storm impossible for God. Being affected by storm sandy have giving me the strength to move forward.
New York, New York (PRWEB) December 26, 2012
Former recording artist of MBK Entertainments, singer, songwriter, producer, Wadena, will release "Girl Play Moving Hypnotic Like," on December 31st, 2012. Grammy Award winner Alicia Keys, the "Voice" television show winner Jermaine Paul and newcomer Elle Varner, of MBK Entertainments, successful careers are examples of a superstar breakthrough. In 2013, Wadena will be the next r & b and pop female singer to have a superstar breakthrough career with nothing but the hits.
"I'm so excited to share my new EP with everyone," says Wadena. "First, it was a painful 10-year struggle with my music career, then my parents took sick and now we were affected by storm sandy. My family and I slept in the car to keep warm and moved around to hotels for shelter once rooms became available. We also had to spend the night at gas stations, standing and waiting on long lines. I was so tired and thought it would be impossible for me to put out my EP and finish recording. Storm sandy have been very emotional and mentally draining on us New Yorkers. However, my faith calmed me down and in my heart I knew no storm is impossible for God."
After a 10-year hiatus in Wadena's music career over copyright controvesy, this diva is bringing it on strong with Girl Play Moving Hypnotic. Party tunes like Girl Play, Moving Hypnotic (Party Don't Stop), Let's Get It and I Thought You Loved Me is what radio have been missing. Wadena's EP will demonstrate her creativity, versatility, writing and talent. Her song "Glad I'm Over You" is another #1 r & b hit jam in comparison with Kelly Rowland's Motivation featuring. Rapper Lil Wayne. Ten Amazing new style of tracks will be included and available for review on Wadena's website. A bonus track entitled "All I Need Part III" Remix featuring Rapper General, as a courtesy of Universal Records for MBK Entertainments will most definitely have listeners put the song on repeat.
Wadena has been through so much in her life. She even had to become a caretaker for both of her parents and spent the last few years during the Christmas and New Year's holiday, celebrating with her family in the hospital.
"I thank God for protecting us all during storm sandy and ask of everyone to keep New Yorker's in prayer. Even though many of us may have to spend Christmas with our families in a hotel or at the American Red Cross Emergency Shelters, I'm happy to be alive. This EP is truly a blessing and my motivation to move forward through the storm."
ABOUT WADENA
Wadena is a singer/songwriter/producer, book/play writer, civil rights activist, community and political leader. As an artist/civil rights activist, she's had a buzz across the nation because of her strength to fight for fairness with credit, compensation and due process in copyright infringement case proceedings. In November of 2012, Wadena was reelected to her 3rd term as 1st Vice-President of the NAACP. She is also a well-known young political leader of NYS/Nassau County Democratic Party, who have helped Democrats win big in key elections, such as President Barack Obama, Secretary of the State Hillary Clinton, Governor Andrew Cuomo, Congresswoman Carolyn McCarthy and others. Recently, Wadena managed one of the largest New York Democratic Community Campaign Headquarters for the reelection of President Obama.