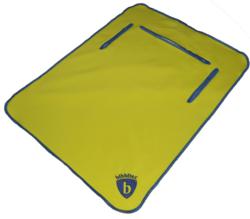 Miami,Florida (PRWEB) December 25, 2012
Bibbitec™ today announced today the official launch of bibbitec.com. Founder and CEO Susie Taylor was inspired to create the bibbitec design after a long and messy plane ride with her two boys. Susie realized that her husband's shirt was the only thing that had remained fresh and clean. So she declared war on mess and set out to find a better solution to this age-old problem. In true entrepreneurial spirit, Susie sought out a proprietary fabrication that would offer the functionality that she demanded. She combined this unbeatable fabric with a cleverly designed silhouette— and bibbitec, the Ultimate Bib® was born.
This patented, multi-tasking Ultimate Bib serves as the catch-all in your diaper bag when you're on the go; at home, it delivers cleanliness and ease like nothing else. Its many functions make bibbitec a must have for Moms, Dads, Grandparents and babysitters alike. It may be used as a non-toxic burp cloth, nursing cover, breathable stroller blanket, placemat, art smock, "lapkin" and apron. bibbitec is odor and water resistant, non-toxic, fast-drying and machine washable. Essentially, it's the only bib one will ever need. It's one product that will last five years, protecting your child's clothing from infant to toddler!
With its many functions, the Ultimate Bib eliminates the need to stuff your diaper bag for a day out with baby. Furthermore, bibbitec bibs are large enough to catch the messes and provide comfort, unlike small bibs that can be uncomfortable around the neck—especially when they get wet and stay wet.
Susie explains, "The specifically engineered material does not shrink or lose its quality because the goods are in the thread! The high-tech material combined with the simple, yet—dare we say—ingenious design gives Moms the respect we deserve. The best part? We're made in America. We're also family owned and operated, so every single bibbitec product is made with love, unparalleled attention to detail and quality right here in the U.S.A." Susie is so committed to ethical business practice that all of her emails are signed with her "Passionately Ethical®" emblem.
bibbitec is offered in two sizes; bibbitec mini (newborn-9 months) and bibbitec Ultimate (up to age six). The mini retails for $20, Ultimate for $30; both available at http://www.bibbitec.com. A wide variety of colors are available in each size.