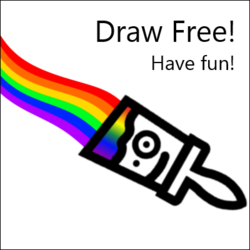 "I think that Windows 8 families will love it just as much as Windows Phone families have."
Redmond, WA (PRWEB) December 24, 2012
Draw Free!, the most popular kids drawing/painting app for Windows Phone, is now available as a free download on the Windows 8 Store. Draw Free! has hundreds of thousands of downloads on Windows Phone and has been the consistent top rated app in the Kids and Family category for over a year. It has a dynamic and easy to use UI that works for kids of all ages, and includes modes to make it even easier to use for small children and babies.
Nikolai Faaland, author and programmer of Draw Free!, has this to say about his app: "When I got started writing Draw Free!, I wanted to make something that would delight my own two kids. I didn't really think about it as something aimed at anyone but them. So they're my lead editors and lead testers. When I released it for Windows Phone, I had no idea that it would be so popular. It was a surprise, but a pleasant one. I think that users of Windows 8 and their families will love it just as much."
Using the capabilities of the Windows 8 platform, Draw Free! is faster and more fluid than ever before, with animated special effects, fills, and brushes. Images can be saved and loaded from the user's Library, captured from the camera, and downloaded using Bing's image search engine. An exciting new feature is Draw With!, which allows multiple users on the same network to draw together on the same canvas. For parents' peace of mind, all features that connect to the network or internet may be turned off, including ads.
As a special offer, anyone who downloads Draw Free! for Windows 8 before January 31, 2013 will get to use it ad-free forever.
The Windows Phone version is also available on the Windows Phone Store.
Draw Free! also has a page on Facebook where users can chat, get help, and learn more about the app.