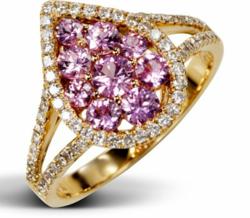 Jewelry isn't simply a wardrobe accessory or a defining piece for an ensemble-it's the start of a legacy.
Beverly Hills, CA 90210 (PRWEB) December 26, 2012
Leon's of Beverly Hills has given their website, LeonsBeverlyHills.com, a makeover. The new site features an easy-to-browse menu, blog, vivid pictures of one-of-a-kind designer pieces and online purchasing options to make gift giving easier.
"It was time to more appropriately showcase our unique custom designs and gemstones. This new website offers the perfect portal for guests all over the world to browse our collections and shop from the comfort of their own homes," said Leon.
Leon's has been a mainstay of the Beverly Hills jewelry scene since 2000. The shop first gained fame and notoriety through their unique, inspired designs and their use of the highest quality precious metals and gemstones available worldwide.
"Jewelry isn't simply a wardrobe accessory or a defining piece for an ensemble-it's the start of a legacy. Understanding that each of our pieces is destined to be an heirloom, we scour the globe for the finest, highest quality materials. We also back up each of our pieces with a lifetime guarantee," Leon said.
Renovating their website just before the holidays makes it easier for customers to shop for their loved ones. With Valentine's Day quickly approaching, this welcome change will help people choose the perfect piece for their gift-giving needs. If a customer prefers a new custom-designed piece, browsing the existing pieces may give them ideas about the styles and color combinations they'd like to explore.
Leon's jewelry isn't just designed for the holidays! Who wouldn't love the gift of a custom-designed piece of jewelry to mark a special occasion such as a birthday, anniversary or other significant milestone?
Custom-designed jewelry has been gaining popularity over the years as the Internet makes designers and materials more accessible. Discerning shoppers looking for legacy pieces with a design reflecting the individuality of the recipient paired with heirloom-quality stones and metals can visit Leon's of Beverly Hills at LeonsBeverlyHills.com.
About Leon's of Beverly Hills
Leon, a veteran designer with more than 40 years of experience and inspiration, personally designs each artful, custom-made jewelry creation. He and his team work with only the purest and finest in precious metals and stones. Known for creating quality custom designs, the team spares no expense in its worldwide search for the best in working materials. Every precious diamond and each colorful jewel undergo a microscopic analysis before being anointed as the "chosen gem" and transformed by their creative artistry into a magnificent completed piece.
Contact Information
Leon's of Beverly Hills
308 North Beverly Drive, Beverly Hills, CA 90210
Tel: 310.246.0277
Website: http://www.leonsbeverlyhills.com