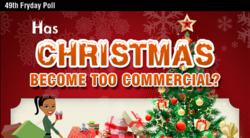 Americans will be spending $563 billion for Christmas in 2012 while the entire global water crisis can be solved for $20 billion
San Jose, CA (PRWEB) December 24, 2012
Did you know that according to the National Retail Federation, Americans will be spending $563 billion for Christmas in 2012 while according to the World Bank and United Nations Development Programme, the entire global water crisis can be solved at a cost of about $20 billion - less than 5% of what Americans spend in one holiday shopping period in December. Disconcerting? Learn more in MapsofWorld's latest infographic titled - Has Christmas Become Too Commercial?
With characteristic focus on data and imagery, MapsofWorld sifts through voluminous data to being users Christmas shopping averages from across the globe. A look at the favorite gifts in America, the amounts people set aside for charities as a whole, and all about popular Christmas charities – the very range of information makes this infographic a fresh one.
MapsofWorld showcases polls from across the world about the true meaning of Christmas. Do children know why they celebrate Christmas? Is it more than a holiday for adults? Be ready for a few surprises. The portal calls users to voice their opinion and share their views making this an interesting and open feature of the portal.
Mapsofworld.com is one of the world's largest mapping and content portals and has been an important mapping research aid since 2003. The site has over 25 million map downloads to its credit and has drawn over 66 million visitors till date. Since 2011 MapsofWorld has introduced a series of infographics about topics of global or social concern.
About the company:
MapsofWorld.com is a multilingual portal offering high-quality maps and information across geographies and platforms. With special focus on educational content, the portal has thematic as well as interactive maps on all major platforms: Web, iPhone, iPad, iPod, and Android. World Atlas and World Quiz are two highly successful educational apps. Other services offered are custom mapping, content digitization, and the online map store.
For more information, please contact:
social(at)mapsofworld(dot)com
MapXL Inc.
10 S. Third Street, Suite 310,
San Jose, CA 95113