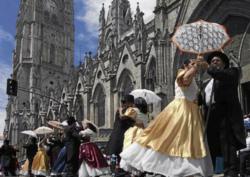 Ecuador is number four of the "Top 10 Best in Travel Destinations 2013"
Quito, Ecuador (PRWEB) December 27, 2012
Ecuador is number four of the "Top 10 Best in Travel Destinations 2013" list, published by the Lonely Planet. Luxury tourism has grown considerably as the economic recession recedes and in order to satisfy this niche area of demand, increasing diversification has resulted in more sophisticated options being made available, especially products and services which offer relaxation and entertainment. Government authorities are prioritizing infrastructure development in transportation and travel accommodation so as to boost domestic and international tourism flows in Ecuador.
The Republic of Ecuador, this small South American country, is now one of the richest places on earth in terms of biodiversity, its cultural heritage and historic sites.
So even if Ecuador is not a global player in the world's economy (yet), as Julian Assange declared, it definitely is a global player in the tourism industry. Travelers will not be able to find a more accessible and versatile destination for leisure, adventure traveling, as well as for backpacking and road trips.
How to get there and around
International visitors will have no problem flying in to Quito's Airport "Mariscal Sucre" (UIO) or Guayaquil from any part of the world. In early 2013 the "New Mariscal Sucre International Airport" (NIAQ) about 20 kilometers east of Quito will be inaugurated, what makes it even safer and easier to access the country.
Where to stay
There are many Hostels, Hotels and private accommodations all over the country fitting every kind of budget. Highly recommendable is for example the Hostería PapaGayo. Parts of the lands where it is located were purchased in 1933 by Don Miguel Angel Benalcazar, great-grandson of "the Libertador" Simon Bolivar, who named them "Hacienda Bolivia". The famous battles that lead to the beginning of Ecuador's liberation, took place in the Hosteria's shepherds' fields.
What to do
Ecuador has a lot to offer not only for adventurous travelers, but also for families and relaxation-seekers. Climbing the peaks of the "Avenue of the Volcanoes", including the Chimborazo (6,267 m) and the Cotopaxi (5,897 m), exploring the "Oriente" and witnessing how different life is in the jungle, and, of course, enjoying the long, sandy beaches. Although Ecuador is a safe country to travel in for the cautious traveler, it is highly recommended to book trips and tours with a trustworthy tour operator, such as Gulliver Expeditions or others. Gulliver's cultural tour packages let the travelers experience how this country manages to combine its culture and history with the amazing natural surroundings into one unique and amazing place on earth.
About Gulliver Expeditions
Gulliver Expeditions, Quito based tour operator and agency, specializes in adventure travel Ecuador, including climbing and hiking tours in the Avenue of the Volcanoes and the highlands. They also offer cultural sightseeing, biking tours, horseback riding, jungle trips and once-in-a-lifetime cruises to the Galapagos Islands, as well as tailor-made itineraries for trips across the whole country.
Every one of Gulliver's Ecuador tours intergrates high-quality, personalized service, competitive prices, high standards in safety procedures as well as professional, qualified guides.
For more information contact Gulliver on http://www.gulliver.com.ec , mail to info(at)gulliver(dot)com(dot)ec or call +593 (2) 2529297 or +1 (347) 535 066.