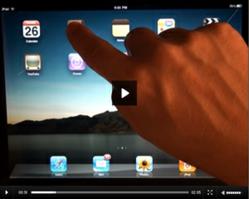 You made a smart decision investing your hard-earned money in your iPad. Wouldn't it be a waste if you never use it to it's fullest potential?
Clearwater, FL (PRWEB) December 24, 2012
We all know and love Apple's iconic iPad. It's been shipping in the millions, an oft-wished-for gift on many a Christmas list -- and none of them come with a user manual. Apple claims the iPad is so easy to use that a manual isn't necessary. But while some features are easy to master, more advanced features sometimes makes many an iPad owner wish a manual existed for them to thumb through.
"I was surprised and disappointed that there was no instruction manual with my iPad," says iPad Pete, creator of the iPad tutorial videos. "I thought it was a mistake and the Apple factory forgot to pack my instruction book. But no -- they just don't come with any instructions. At all!"
Apple's whole model is "ease of use." They claim you don't even need a manual. Using an iPad's simple features such as checking email easy enough. But many users are finding it tough to get their existing music collection onto the iPad and have many basic questions about its use when first starting out, as evidenced by these posts on the Apple forums. That's what urged iPad Pete to create his series of iPad video tutorials.
With Christmas just around the corner, many consumers receiving iPads will be jumping with joy for their new gadget. iPad Pete warns those who aren't technically advanced that it does take some time to learn how to use all the features, especially without a manual. Designed by a passionate teacher, the iPad Video Lessons will allow users to learn at their own pace and teaches users efficiency hacks, not-so-obvious tips and tricks like how to stop apps from running in the background, and over 100 videos with free updates for life.
Alongside the iPad tutorials there are also tutorials for the iOS5 and iOS6 operating systems. Doing wireless updates, backups & syncing, reminders, notifications and iPad magazines isn't second nature: users generally must be taught how to do these tasks.
For more information visit iPad Video Lessons.