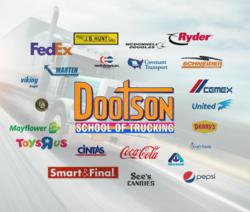 There is a growing need for well trained and experienced truck drivers. According to the Bureau of Labor Statistics, the trucking industry is projected for a 9 percent growth rate through 2018
Los Angeles, CA (PRWEB) December 26, 2012
A new website is in the works for Dootson School of Trucking, a prominent trucking school in southern California. Scheduled for launch in early 2013, the new website allows visitors to view truck driving training programs offered by the school and career opportunities for graduates.
Today there is a growing need for well trained and experienced truck drivers. According to the Bureau of Labor Statistics, the trucking industry is projected for a 9 percent growth rate through 2018. Companies, understanding the important role that these drivers play in the outreach of their brand, are now providing several perks to entice qualified drivers. This is good news for anyone in search of a new career in a fairly stagnant economy.
As a result of this need, Dootson School of Trucking is redesigning their website in an effort to make it easier for visitors to navigate and learn more about the exciting opportunities that exist in commercial truck driving. The new website is designed to provide details about the company's bus and truck driving training programs, which are set up to accommodate anyone's schedule with classes held during the day, on weekends, and even at night.
Website visitors will find the new website is friendly on the eye and easy to use, giving them immediate access to the following:

Graduate testimonials
Photos of graduates
Companies that hire Dootson graduates
Industry needs
Qualifications to work as a truck driver
Salary expectations
Links to trucking companies for job application
Instructors
Programs/courses offered
Pricing for programs
Blog
Online store
If visitors want to stay updated with the trucking company they can use the new website to connect with Dootson School of Trucking on media outlets such as Twitter, Facebook, and YouTube. The trucking school in southern California is conveniently located and outfitted with classrooms, trucks, buses, a repair shop, and driving courses designed to teach students everything they need to know about the world of trucking. For more information about Dootson School of Trucking, please visit their website at http://www.dootsontruck.net.
About Dootson School of Trucking:
The founder of Dootson School of Trucking, Richard Dootson, began his career as a driving instructor. In 1953, he purchased a driving school, operating it out of his home for the first few years. A decade later, trucks were added when Dootson joined forces with Dan Fransway. The early years were difficult for the trucking company, but it slowly grew, acquiring new clients and launching a fleet training program. Today the company still remains a family-run business, operated by three generations of the Dootson family, and works with major corporations and government organizations. For more information about Dootson School of Trucking, please visit their website at http://www.dootsontruck.net.