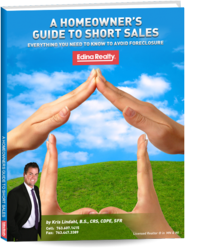 When it comes to picking your agent you'll want to find an experienced one that has access to all of the best resources
Blaine, MN (PRWEB) December 24, 2012
The Edina Realty agent Kris Lindahl held a seminar focusing on the Seterus Inc. short sale process on Sunday afternoon in Blaine, MN. Lindahl showed attendees how to first get in touch with a real estate agent to market their home to a buyer and walked them through what they could expect from Seterus Inc. when filing for a short sale.
"The first step is to find an experienced and responsible agent to work with who will help you market your home to a buyer," Kris Lindahl said, and continued, "Your agent will also help you send the appropriate documents to Seterus at the appropriate times. Once you've found a buyer your agent will write up a purchase agreement and go over it with a negotiator with Seterus." Once a price has been agreed upon, Kris explained, a short sale approval letter will be sent.
Lindahl stressed that the most important step is the first one: finding the right agent. "When it comes to picking your agent you'll want to find an experienced one that has access to all of the best resources," Kris Lindahl said, and continued, "With me as your agent I can guarantee you'll have a smooth, easy process helped along by the technological advantage that I hold over other agents."
From there, Lindahl explained, there are several resources that can be accessed to help you through the process.
Call Kris Lindahl at (763) 607-1415 for more information. Visit the Minnesota Short Sale Calculator website to check eligibility and the Kris Lindahl real estate website. Download a complimentary copy of the eBook "A Homeowner's Guide To Short Sales."