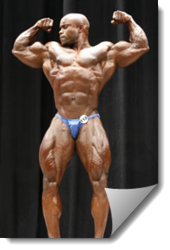 Since using HGH.com Products I have noticed amazing results.
Boonton, NJ (PRWEB) December 27, 2012
HGH.com is the online leader in HGH (Human Growth Hormone) Supplements, as well as bodybuilding, weight loss, and general health pills. Starting in 2013, HGH.com is excited to announce it's new partnership with three championship athletes: Ben White, Tara Silzer, and Richard "Tricky" Jackson.
Dan Smith from HGH.com commented "We're very excited to have these athletes on board. All we had to do is let them try our product(s) and they agreed that they work so well they were willing to put their name in front of it."
Ben White's testimonial states "While taking HGH.com products, I have been consumed with complements on the way my physique has changed in the past few months." Ben also stated, "These products are a safe alternative and the Deer Antler in some of the HGH Pills really helps with the joint stiffness and the usual aches that come from heavy lifting."
Ben White is an accomplished power lifter and IFBB PRO Bodybuilder. He started using hgh.com products Aug 2012 as was prepping for Sheru Classic and Arnold's Madrid, Spain.
Tara Silzer's testimonial begins with "Since using HGH.com Products I have noticed amazing results. Within only 2 weeks of starting to use the CLEN XDV and WIN Max as cutters, I was finding better results compared to other products taken before."
Dan Smith continued "Bottom line, our products work. They do as advertised. We offer a money back guarantee if they don't. We stand behind our products and now we have professional bodybuilders also standing behind them. We are excited for this great opportunity to work with these tremendous athletes."
HGH.com is know for always enhancing their formulas as scientific breakthroughs surface which allow them to take advantage and create a superior product. HGH.com creates leading HGH Supplements such as Somatropinne HGH, HGF Max, and HGH 30,000. They also produce and are the sole retailer for bodybuilding formulas such as ANA-GH, Clen XDV, Dekka, and other top supplements only found on HGH.com.