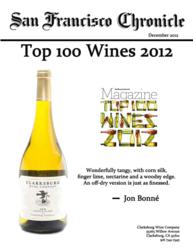 Clarksburg's Chenin Blanc "the right grape in the right place."
Clarksburg-Sacramento, CA (PRWEB) December 31, 2012
The Clarksburg Wine Company's 2010 Chenin Blanc VS (Vouvray Style) is the top Chenin Blanc in the San Francisco Chronicle's 2012 Top 100 Wine List, a result Gerald Asher foresaw when he called Clarksburg's Chenin Blanc "the right grape in the right place." The San Francisco Chronicle agrees, commenting, "California's ground zero for the grape...this company has created a range of outstanding versions."
Clarksburg Wine Company president John Beckman said, "We are getting outstanding reports from the field about this wine, and now we get the judges to confirm their reactions. And the next two vintages are even better!"
Clarksburg's three versions of Chenin Blanc, Remenance, Petite Sirah and Cabernet Franc are available in the Sacramento area and at the Clarksburg Wine Company tasting room in the Old Sugar Mill wine gallery in Clarksburg.
The Old Sugar Mill, now home to 10 wineries, is located at 35265 Willow Avenue in the historic town of Clarksburg, fifteen minutes south of the Capitol building in Sacramento. Open seven days a week; individual wineries' hours vary. For further information on wineries and events, contact John Beckman or Mary Tye 916/744-1615 and visit http://www.oldsugarmill.com
For more information, Clarksburg Wine Company.