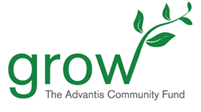 The generous Advantis GROW grant enables us to make the holidays warmer for so many more children and families
Oregon City, OR (PRWEB) December 25, 2012
In storybook timing, Clackamas Women's Services (CWS) Shelter Annex opens this holiday week, ready to double the number of survivors of domestic and sexual violence they can serve. Thanks to a number of community partners, now more families that might have been turned away — or split up — have a warm place of respite during this holiday season and beyond. Thanks to Advantis Credit Union, a $10,000 grant enabled CWS to add the final touches that make the facility not only inhabitable but a cozy, home-like environment — and just in time for Christmas. In addition to providing emergency housing and emotional support, a feeling of self-worth for the victims is given root to flourish.
Advantis Credit Union's GROW Grant of $10,000 helped complete and furnish six bedrooms in the new shelter annex. The furnishings are contemporary and stylish, intentionally fueling restorative confidence and self-esteem in its residents. For the over 100 women and children here escaping crisis, this can be key in jump-starting a new life outside the cycle of abuse.
"The generous Advantis GROW grant enables us to make the holidays warmer for so many more children and families," says Amy Doud, Clackamas Women's Services Program Director. "The gift allowed us the freedom to design the annex to its' greatest capacity —bunk beds are custom-made to withstand the test of time for kids, the rooms are larger to accommodate a variety of family needs and the space is decorated and furnished to be as healing and comfortable as possible."
The Clackamas Women's Services Shelter, the only one of its kind in Clackamas County, has been providing families with support and housing since 1985. They are currently moving in families who have called with needs for urgent support and a home for the holidays – and beyond. For inquires and more information, call the Crisis line at 503-654-2288 or 1-888-654-2288.
Advantis Credit Union created the GROW Community Fund to assist metro-area non-profits in carrying out their missions to help some of the most vulnerable in the community. By creating a $50,000 annual fund to help bolster small- and medium-sized non-profits with grants up to $10,000, organizations like Clackamas Women's Services can complete mission plans often stymied because of a sluggish economy.
About Advantis
Advantis Credit Union, with $977 million in assets, is one of Oregon's largest member-owned not-for-profit, financial cooperatives with over 48,000 members and five branches in the Portland metro area. Advantis is one of the oldest credit unions in Oregon, serving the Portland metro area for over 84 years. Membership in Advantis is open to anyone who lives or works in 23 counties in Oregon, including: Benton, Clackamas, Clatsop, Columbia, Coos, Curry, Deschutes, Douglas, Hood River, Jackson, Jefferson, Josephine, Klamath, Lane, Lincoln, Linn, Marion, Multnomah, Polk, Tillamook, Wasco, Washington, or Yamhill counties in Oregon and anyone who lives, works, worships, or attends school in the state of Washington.
Contact Information:
Wendy Edwards
Vice President of Marketing & Human Resources
503-785-2569
wedwards(at)advantiscu(dot)org
Claudia Johnson
Claudia Johnson Strategic Communications
503-799-2220
claudia(at)claudiajohnson(dot)com