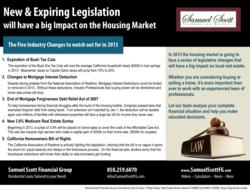 San Diego, CA (PRWEB) December 26, 2012
There are several pieces of new and/or expiring legislation scheduled to take effect in the new year that will have a large impact on the economy and housing market (especially in California). Here, Samuel Scott Financial Group explains the biggest issues in the industry and what they might cost the average taxpayer or home buyer.
1. The "Fiscal Cliff" and Expiration of Bush Tax Cuts
2. Changes to Mortgage Interest Deduction
3. End of Mortgage Forgiveness Debt Relief Act of 2007
4. Medicare Real Estate Surtax from Obamacare
5. California Homeowners Bill of Rights
The "Fiscal Cliff" and Expiration of Bush Tax Cuts
Much will be discussed about the Fiscal Cliff in the coming months. For a detailed breakdown as to what exactly is included in drastic the $1.2 trillion deficit reduction, check out this recent post by Marcus Lam of Opes Advisors. In short, the cliff would trim the deficit by ending the Bush tax cuts, adding new taxes, cutting domestic spending and the defense budget. This combination of cuts and increased taxes (if allowed to occur) would have a high probability, 25% according to Standard & Poor's Agency, of sending the American economy into recession yet again.
To avoid the fiscal cliff, a deal must be reached between both parties in Congress and then be approved by the White House by January 2, 2013. With the election now in the rear-view mirror, the looming deadline has become the number one priority of the legislature. If a deal is not reached, the impact on the housing market could be harmful, crippling the fledgling recovery of the industry.
Changes to Mortgage Interest Deduction (MID)
The Mortgage Interest Deduction (a generally popular deduction with widespread support) could become a casualty of the fiscal cliff negotiations. Two years ago a bipartisan commission on fiscal responsibility, Simpson-Bowles, called for a reduction in the MID. And many economists, and even the president of the Federal Reserve Bank of Minneapolis, agree that scaling back is an option that should be considered if we want to get serious about reducing the nations' deficit.
On the other side of the argument is the National Association of Realtors who are concerned about how much a change to the MID would decrease the value of housing. A change to the deduction would hurt people who already own homes and new buyers. Prospective buyers would suddenly find their purchasing power has been diminished, as they now have to recalculate expenses and look at their finances without any type of deduction on their Mortgage Interest. Sellers can expect to get less from their home and will have to deal with smaller pool of qualified buyers to work with.
MID is particularly impactful in high cost areas like California because it provides larger deductions as an incentive for carrying more debt (in the form of a more expensive home). "According to a March 2011 analysis in Tax Notes, residents of Beverly Hills, California, get a $1,873 per person benefit from the deduction, while residents of Clarksville, Mississippi, gain an average of $45 per person." – Bloomberg News.
End of Mortgage Forgiveness Debt Relief Act of 2007
In 2007, at the beginning stages of the housing bubble burst, Congress passed the Mortgage Forgiveness Debt Relief Act. The law allowed the debt forgiven by a lender in a short sale, to be exempt from taxes. This both helped to aid struggling homeowners and simultaneously encouraged lenders and borrowers to dig deeper with negotiations.
If an extension isn't reached by January 1st, forgiven mortgage debt will be taxable once again. Many professionals in the real estate industry speculate that the expiration of this relief act will cause short sales to drastically decrease and have a negative impact on local housing. In fact, the National Association of REALTORS® sent out a call to action to its million-plus members this weekend, urging them to support an extension of tax relief on mortgage forgiveness. (Support NAR's Efforts to extend this Debt Relief)
"Over a quarter of all transactions still involve distressed properties. That is why you must take action now," the association said in an e-mail sent Sunday. "Homeowners shouldn't be forced to pay a tax on money they've already lost with cash they never received."
Medicare Real Estate Surtax from Obamacare
Beginning 2013, a new surtax of 3.8% associated with the Patient Protection and Affordable Care Act, will be placed on home sales. Here is how it all breaks down…
-- A couple must earn $250k in adjusted gross income or $200k for individuals
-- The capital gain on the sale of the home must exceed $500k for couples and $250k for individual. A capital gain on the home refers to the selling price subtracted from the cost basis (purchase price and costs + improvements + selling costs – depreciation)
If the above criteria are met, the homeowner will pay a 3.8% on the excess in capital gains on the home of $500k for couples and $250k for individuals or a 3.8% tax on the amount above the $250k taxable threshold, whichever is less.
Example A: A family making $300k a year buys a home for $400k and sells for $800K would not pay the surtax on the sale of the home, as the capital gains are only $400k
Example B: A family making $300k a year buys a home for $500k and sells for $1.1 million. This family would have $600K in capital gains, exceeding the exclusion threshold of $500k by $100k. This additional $100k would then be hit with the 3.8% surtax, leading to a tax bill on the sale of the home of $3,800.
California Homeowners Bill of Rights
While it's name seems innocuous enough, the California Association of Realtors (CAR) has actually sent out a RED ALERT opposing the package of bills in California known as the Homeowners Bill of Rights. Here's why…
One provision in the California Homeowners Bill of Rights allows any borrower, no matter what the circumstances, to file a lawsuit to stop a foreclosure. The problem is that the language is written so vaguely that the borrower doesn't even have to show that they have been personally harmed to file suit and be awarded damages. This will encourage opportunistic lawyers to pursue frivolous lawsuits, bringing unnecessary and unjustifiable delays to an already difficult and time consuming process.
Moreover, by restricting a lender's ability to foreclose and exposing them to unnecessary liability, this so-called Bill of Rights will dry up inventory and it further discourage lending. Lending is already tight. Even the most well-qualified borrowers are finding it difficult to obtain financing. By stopping legitimate foreclosures, banks will be forced to further tighten lending standards at the expense of homebuyers.
"C.A.R. agrees that careful and balanced reforms to the foreclosure process are necessary. However, C.A.R. opposes this conference report because it will further delay the housing recovery by inviting bad-faith lawsuits and defaults, and making it difficult for even well qualified borrowers to obtain financing. Financing is already very difficult to get. This conference report will only make a difficult situation worse."