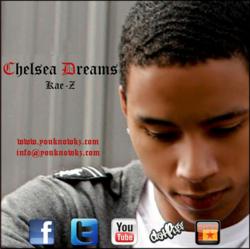 My aspiration is to work with a premier music production company where I will not only be able to be acknowledged within the industry, but become a valuable addition to the company who produces my music professionally
Boston, Massachusetts (PRWEB) December 26, 2012
Kae-Z (KZ), the newly talented and diverse rap artist who's been admirable in the arena of hip-hop music releases his first 23 song CD to include his newest, "Chelsea Dreams," "Never Fall Off," and "Put it Down Freestyle."
Kae-Z has an unparalleled music style, engineers most of his own work, and writes his own songs. Because he sings from the heart, he knows just when to motivate his audience by using deep metaphors so they can listen along and nod their heads to his beats. When preforming, the diversity in his style of music arouses the fans and notably, his music and talent is greatly appreciated. Kae-Z's inspiration comes from lyrical rappers such as Nas, Jay-Z, Drake, Joe Buddens as well as other new rappers in the industry, such as SwaggaBoyLos and J.Cole.
"My aspiration is to work with a premier music production company where I will not only be able to be acknowledged within the industry, but become a valuable addition to the company who produces my music professionally", said Kae-Z.
Kae-Z has been performing at numerous music clubs, has featured other local rappers on his music recordings and has opened music performance shows for other lyrical rappers including Cassidy, at Club Whiplash several months ago. Those who attend, anticipate on appearing at future events. His expectation is to spark the next generational wave of hip-hop music.
Music, videos and photos by Kae-Z can be found on his website at http://www.YouKnowKz.com, DatPiff, ReverbNation, Veengle and SoundCloud. Additional information and be found on his social media pages; Facebook (Facebook.com/YouKnowKz), and Twitter (@YouKnowKz).
Should you wish to see Kae-Z's new "Never Fall Off" video click here. For questions and/or comments, please feel free to visit Kae-Z's webpage at http://www.YouKnowKz.com and under contacts, you may be able to post your comments as well as request a copy of the new "Chelsea Dreams" CD.