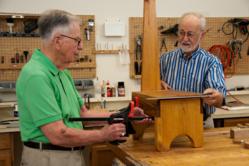 What started out as a tree full of hearts that needed to be adopted is now thankfully a bare tree in our lobby
Thomasville, NC (PRWEB) December 25, 2012
With a population of around 25,000, most would suspect that only small things could come from a rural town like Thomasville, North Carolina. While Thomasville is often noted for its furniture industry and popular landmark "The Big Chair," it is also home to some folks that make helping others and giving back to the community part of their everyday lives. Staff and residents at Piedmont Crossing, a retirement community located in Thomasville, support various forms of community outreach throughout the year, but there has been a special joy in the air this holiday season.
Residents have spent much of their December gathering donations and volunteering for the Fairgrove Family Resource Center to help those that would otherwise be without food this holiday season. The Fairgrove Family Resource Center helps struggling families in the area by providing food and financial assistance to those in need. Several residents and staff also adopted a heart off of the Heart to Heart Tree, an effort also organized by the Fairgrove Family Resource Center. Each heart held specific information about a child or family including their needs or wishes for the holidays.
"What started out as a tree full of hearts that needed to be adopted is now thankfully a bare tree in our lobby," Piedmont Crossing's Marketing Director Blair White said. "This proves that Piedmont Crossing loves to help others that may be struggling during these challenging economic times. The Heart to Heart Tree provides us a way to help children and sometimes entire families."
Sarah Snell, a resident at Piedmont Crossing, and several others organized a Samaritan's Purse Operation Christmas Child shoebox drive at the retirement community to provide gifts for boys and girls around the world. Since an abundant amount of boxes were donated, the effort was considered a success. Snell said, "In the midst of holiday shopping, partying, and spending, it's easy to forget about the multitude of people that can't always make ends meet to provide for their families. I'm very honored to be part of a community that makes a special effort to help these individuals."
Piedmont Crossing encourages everyone to inquire about needs in their community. Soup kitchens, pregnancy crisis centers, homeless shelters, and low income meal delivery services are often in need of donations and volunteers on an ongoing basis.
Piedmont Crossing, a not-for-profit retirement community located on 61 beautiful acres in Thomasville, NC offers casual, comfortable cottages, town homes, and apartments as well as a variety of services. For more information on Piedmont Crossing or its philanthropic efforts, please visit http://www.piedmontcrossing.org or contact Blair White, Marketing Director, at 336-474-3605.