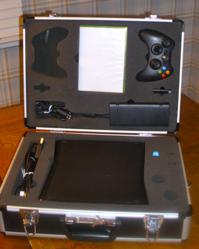 Protect your xBox 360, PS3 and Wii video gaming cosole when traveling
Fraser, Michigan (PRWEB) December 26, 2012
As usual, video gaming consoles like xBox, PS3, and Wii were hot gifts this season. They were the perfect gift for the whole family to enjoy. Getting the gaming console back home, to the dorm room, or with you on the next business trip or vacation safely can be challenging once the holidays are over.
One of the best ways to travel with a gaming console is to use the box it was in when it was purchased. It holds everything securely and can take quite a bit of abuse. The problem with this is that most of these boxes have found their way to the recycle bin shortly after opening. Another problem is that it is often hard to put everything back into the box the way it came from the factory.
The best way to transport a video game safely is to use a bag or case designed to hold the gaming unit. The G-Pak organizer by Naki is an affordable soft-sided case to carry video gaming gear. It holds the console and other components. It is a good way to store the units and for light travel.
Another bag made for carrying gaming units and gear is the Tritton Gaming Backpack. It has many padded pouches and compartments to hold and transport a wide range of gaming components. The Tritton should protect the gear well while traveling.
A unique way to store or travel with a gaming system is the Doberman case by Doberman Case.com. These are aluminum hard shell cases with protective foam inserts made to fit the gaming unit and their components. The Doberman cases are made for specific cases like the xBox 360 Slim, PS3 Slim, and the original Wii. The company said the PS3 Super Slim case was just released and the case for the new Wii U is expected in early January.
If the original box isn't available and these gaming bags and cases aren't available there is another way to travel with a gaming unit. The common practice is to wrap the console with a heavy blanket or towel and place it in the center most compartment of a piece of luggage or duffel bag. Packing other clothing in the bag around the unit will help reduce the risk of damage to the gaming unit and components.
Traveling with a gaming unit can be challenging. Whether it is the xBox 360, PS3, or Wii, there is a way to travel safely. Planning ahead and saving the retail box or buying a protective case will allow for peace of mind and protection for the expensive video games.
About DobermanCase.com
Doberman Cases are made by DobermanCase.com of Fraser MI. They manufacture protective cases for xBox 360 Slim, PS3 Slim, PS3 Super Slim, and the original Wii. DobermanCase.com will be introducing a traveling case for the new Wii U in early January 2013.
Contact info:
DobermanCase.com
Tom Monroe
33957 Doreka
Fraser, MI 48026