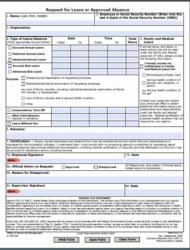 The OPM 71 form will be available for free download in printer friendly pdf format in laws.com
New York, NY (PRWEB) December 25, 2012
Laws.com one of the fastest growing legal resource for free legal forms and government forms online has announced the launch of OPM 71 - Request for Leave or Approved Absence form. The OPM 71 will be available for free download in printer friendly pdf format in laws.com. The company said since the goal of laws.com is to become the no 1 online resource for finding legal forms, the company is adding various legal forms to the site on daily basis and adding OPM 71 form is a step forward in that direction.
OPM 71 - request for leave or approved absence is the form used by federal employee for requesting temporary leave from a federal position or for applying for an approved absence. The OPM 71 form is the one of the most searched form by federal employees and making OPM 71 form available in laws.com will help federal employee to get the OPM 71 - request for leave or approved absence form easier and they can simply print the OPM 71 form anytime they want.
OPM 71 form download page also offer s video to help user to fill the form without any outside help. The do it yourself OPM 71 video explain the user about the OPM 71 - request for leave or approved absence form and when to use it. The video goes on to assist user in filling the OPM 71 form by feeding the sample data directly in to the OPM 71 fields. The sample data that the DIY OPM 71 videos uses will come as handy for viewer as they have to simply replace the sample data with their own information to complete the OPM 71 form. The video make the process of filling the form a cake walk with a visual step by step guide.
To directly download form, visit the OPM 71 form link. It will take user to the download page that will have a button to save the OPM 71 form to the computer.
Laws.com - online place to get legal resources and help is a fastest growing website with tons of legal forms, court case history, court dockets, lawyer directory and other very useful legal information. The offering of free legal forms and other legal resources that make laws.com one of the unique and reliable site for legal information. Laws.com set out with a goal to serve legal community and to become no 1 legal resource site by constantly providing needful legal resources.