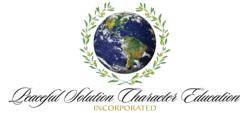 Every second we wait could be more lives lost and another missed opportunity. We have to act now if we want to see a difference now
Abilene, Texas (PRWEB) December 27, 2012
The Peaceful Solution Character Education Incorporated is offering the solution to prevent school shootings and other related tragedies.
The non-profit group publishes a wide variety of character building curricula and training. They say if their program were implemented in schools and homes, children would start off with the tools they need to make proper decisions that will benefit themselves and others daily.
"The great thing about this program is that it not only provides the students with the how, but teaches them the why also." says Yisrayl Hawkins, author of The Peaceful Solution Character Education Program. "When people understand why it benefits them to make proper choices, in advance and they receive training on how to make those right choices in advance, it's a winning combination", Hawkins said.
They say children are bombarded with negative influences on a daily basis and in order to have them make positive choices, they must possess positive character traits built in, before the problem arises. The group says those traits need to be taught at the earliest age possible, and then continue as they grow. And, it is never too late to start teaching the program.
"Every second we wait could be more lives lost and another missed opportunity. We have to act now if we want to see a difference now", said Hawkins. "This is the answer. We can absolutely prove that if you use The Peaceful Solution Character Education Program consistently, as recommended, you will see positive changes in your school, home and our society", he said.
For more details please go to http://www.peacefulsolution.org
About Us –
Pioneered by President Yisrayl Hawkins, in 1994 The Peaceful Solution Character Education Incorporated began with a group of concerned parents and teachers whose keen observations led them to realize that positive character development was rapidly deteriorating in our society. Their concern prompted them to proactively embark on a mission to stop the decline and bring back positive character behaviors to society.
In 2004 The Peaceful Solution Character Education Program, authored by President Yisrayl Hawkins was successfully introduced in the United States and nine other countries.
Since that time the program has been successfully implemented in schools, prison systems, after school programs, daycare centers and in the home.
For more information please contact:
Joan Simpson
888-613-9494