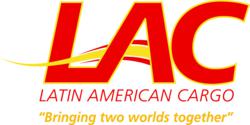 The end of the year is a time of reflection for LAC to try and improve their services.
Staten Island, New York (PRWEB) December 28, 2012
As the year draws to a close, Latin American Cargo (LAC) has seen a marked increase in interest and positive feedback in their Business Development department. One of the main areas which clients have expressed their satisfaction has been with the acceleration and success of the market penetration of their products or services. LAC plans on reviewing their efforts over the last year in detail and using the feedback and results from all their contracts to refine and improve their methods.
The specialized and custom designed program that the LAC Business Development department offers is meant to cover four of the main steps of any business venture. These programs are custom fit to the needs of each client, and are run on a "red light/green light" method, allowing the client to stop everything immediately at their wish. The main goal of these services is to increase the speed and efficiency of company growth and new market penetration.
Latin American Cargo has been an adaptive company that has done its best to break with trends that don't work and reinvent their business model to ensure satisfied and successful customers. This is why feedback analysis is an important part of their yearly self-analysis and company vision and led to the creation of their still young business development branch.
Companies have for some time sought more successful market penetration, especially in the Latin American markets. By listening to the needs of clients, LAC has been able to branch out with their services in new ways that allowed the creation of their business development services.
You can expect more innovations like the business development branch from LAC in the next year since they are not known to rest on their laurels. This hard-working company is driven by strong values and good work ethic, and the results and rewards of this comes from the clients themselves each year in the end of year report and each day through their appreciation and satisfaction.
About Latin American Cargo
Latin American Cargo (LAC) is a shipping and freighting company specializing in shipments going to and from different areas in Latin America. Recently gaining NVOCC status in the USA, LAC has expanded its abilities to serve customers who need to ship their goods from Canada and the US territories to Latin America. LAC is experienced with air, sea and ground transport, and it's Mexfreight division, short for Mexican Freight, handles almost exclusively the transport to and from Mexico and acts primarily as a road transportation service.