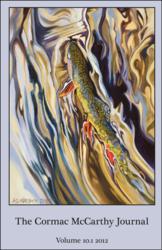 Volume Ten of theCormac McCarthy Journal may be our most lively and interesting yet as we celebrate ten years of training our critical eye on one of the world's most challenging novelists and playwrights.
Miami, FL (PRWEB) December 27, 2012
Volume Ten of the peer reviewed Cormac McCarthy Journal may well be our most lively and interesting issue yet,. It's a fitting way to celebrate ten years of training our critical eye on one of the world's most compelling and challenging novelists and playwrights.
This issue of the Journal discusses a variety of McCarthy's works, including Samuel Beckett's influence on The Sunset Limited and the echoes of King Lear in No Country for Old Men. We also engage the background radiation of the Vietnam War in No Country. Blood Meridian's terrifying supervillan Judge Holden comes in for an amusing and troubling comparison to P. T. Barnum, while we simultaneously explore Holden's role as a trickster figure. We then turn our attention to the imagery of breath in The Road. Finally, Knoxville historian Wes Morgan offers a compelling read about the mysterious "government tank" in The Orchard Keeper.
The new Journal will be offered for purchase to both Society members and non-members via our online bookshop at http://www.cormacmccarthy.com as well as on Amazon.com in late January. Back issues of the Journal , when available, may be purchased from bookshop as well, and out-of-print issues can be found online at http://journals.tdl.org/cormacmccarthy/index.php/cormacmccarthy/index. Membership in the Society includes an option to subscribe to the Cormac McCarthy Journal.
The Cormac McCarthy Society is an independent nonprofit educational organization not affiliated in any way with the author, his publishers or his agents. Founded in 1993 by a group of fans and scholars for the purpose of studying the author's works and the literatures of the Appalachia, the American South and Southwest, the Society now has members and affiliates on six continents and has for twenty years sponsored literary conferences in the US, Europe and, next year, will co-sponsor a conference at the University of Western Sydney, Australia.
For more information about the Society, its conferences, casebook series, annual Journal and its many other activities, please contact Rick Wallach, Secretary of the Society, at info(at)cormacmccarthy(dot)com .