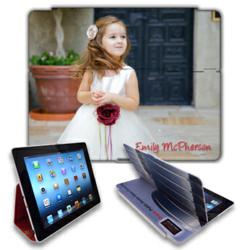 "It is a nice finished product and certainly unique." said Nancy Gravley, product reviewer at TheMacObserver, "A great gift for a new mom or dad and a good promo idea for a business that wants their company logo visible everywhere."
Chicago, USA (PRWEB) December 27, 2012
Now that Christmas is behind us, stores are gearing up for one last push before the year end. For online iPhone and iPad case maker iGearUnlimited, it means the biggest discounts of the year.
iGear's signature products include custom printed iPhone cases and iPad cases. Recognized as a leader in the industry, iGear uses the most advanced UV flatbed printing technology. iGear phone cases feature high resolution, vibrant colors, no peeling, and no fading. iGear is a G7-certified Master Printer, ensuring extremely stable and consistent color. The company's iPad cases have won accolades from various review sites, and are touted to be the world's most perfect cases for Apple's iPad 2, iPad 3, iPad 4, and iPad Mini.
"It is a nice finished product and certainly unique." said Nancy Gravley, product reviewer at TheMacObserver, "A great gift for a new mom or dad and a good promo idea for a business that wants their company logo visible everywhere."
Other products on sale include the company's Racer bamboo case. Made of 100% solid bamboo, the Racer protects all sides and all corners of the iPhone 5, offering super-lightweight protection with an extremely thin profile. The iPhone 5 Tough Case is considered to be the most rugged case for iPhone 5 — it has even protected the iPhone 5 from a 32-foot drop to a concrete driveway. The company's iPad Mini Portfolio Case is among the first cases available on the market, and offers simple, elegant protection at an economical price.
Interested shoppers should visit the company's online store through 1/1/2013 and use coupon code "
About iGearUnlimited.com
iGearUnlimited.com is powered by Sunrise Digital, an Inc. 5000 company established in 1988 and employs the most advanced equipment and technology, such as G7-certified HP Indigo and UV flatbed presses, and digital die-cutting, to create best-in-class color printing, P.O.P. retail displays, and signage products. A privately-owned enterprise, the company is based in Chicago and sells products worldwide.