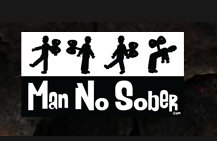 Santa Fe, NM (PRWEB) December 25, 2012
Santa Fe dining institution and reliable entertainment hotspot Cowgirl has been serving the goods to visitors and locals when it comes to great food and music since 1993. During 2012, Cowgirl has brought entertainment in virtually every single night of the week, much to the delight of both locals and visitors. From 8-11 p.m., Sunday, Dec. 27, 2012 the Cowgirl has scheduled roots rock band 'Man No Sober' play a selection of rock tunes for its patrons. Santa Fe, NM's premier on-line visitor guide SantaFe.com, has this event listed on the company's event calendar.
Man No Sober - Roots rock - Eric George has been making music for over 20 years, sharing the stage with top diverse national artists from Buddy Guy to Buddy Miles, Rascal Flatts to Keith Urban, Brett Michaels, and Kid Rock. He started in music at 10 years old, playing in his family's band, has toured world-wide and is on the threshold of a music that will touch hearts and minds for years to come.
About Cowgirl:
Since 1993, the Cowgirl, which now occupies almost the entire block where it started, includes a restaurant, a billiard parlor, a commercial catering kitchen and several private party rooms. The patio is one of the most inviting summertime venues for locals and tourists alike and the Cowgirl has become a local institution.
Contact Information:
Barry Secular
Cowgirl
319 S. Guadalupe St.
Santa Fe, NM 87501
(505) 982-2565
About SantaFe.com:
SantaFe.com provides locals and visitors to Santa Fe alike the most current interactive platform for events, music, arts, business, dining and lifestyle. SantaFe.com is a division of Hutton Broadcasting, located at 2502 C. Camino Entrada, Santa Fe, NM 87507
Contact Information:
Scott Hutton
SantaFe.com / Hutton Broadcasting
(505) 471-1067 (Media inquiries only, please)