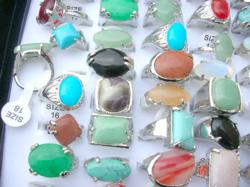 "An idea that is developed and put into action is more important than an idea that exists only as an idea." --- Buddha quotes
Blaine, WA (PRWEB) December 29, 2012
Wholesalesarong.com announces it has expanded its line of wholesale accessories with introduction of new fashion rings.
With its new line of wholesale fashion jewelry products, wholesalesarong.com is expecting to enrich the retail shopping experience in 2013. Today the company declares that new shipment of wholesale jewelry merchandize have berthed our port and they would soon make their ways to the retail stores and gift shop across all corners of continental America. The company started business in 1996 and it is now considered as one of the biggest wholesale distributor in both US and Canada. Wholesalesarong.com has been the prominent distributor of retailers, both small and big, to procure cheap wholesale goods all through its 16 years in business. It has a online presence on the web where customers can easily access product catalog/pricing information, and place order. The range of products under its belt includes garment products, watches, fashion accessories, jewelry and fine arts.
"We think 2013 would be an exciting time for retail shopping, or some would say retail therapy," the company spokesman starts with a lighthearted banter.
"With improving reach of supply chain and distribution, we will continue to see more and more exotic products from faraway lands. For that matter, you can entrust wholesalesarong.com to continue explore the remote corners of the east and bring back to you amazing array of interesting merchandize with the finest quality and most competitive pricing. You will be impressed with our current batch of jewelry as they cover some exquisitely crafted art piece, including fashion rings, gemstone jewelry rings, designer rings and engagement rings," Added the spokesman.
Indeed, the wholesale rings catalog is impressive. The list provided by the spokesman is not exhaustive. One can also find 925 sterling silver rings, silver jewelry, cz rings, silver rings, costume jewelry rings, antique rings, mens ring, navel ring and more. Check out the prices and images on http://www.wholesalesarong.com/wholesale-fashionjewelry2.htm.
Wholesalesarong.com serves primarily the retailers in continental US and Canada market. They source the world to find low cost manufacturers who produce the finest products. The result is cutting edge merchandize with the most competitive pricing for the domestic retailers. In this way, it helps the retailers to maintain positive balance sheet for their business. Deliveries to retailers are made from their centralized warehouses in both US and Canada and shipment would be standard UPS ground. For retailers outside continental US, please refer to wholesalesarong.com website for comprehensive listing of countries the company delivers to.
Company Info:
Apparel & Sarong is a US and Canada wholesale distributor supplies Bali arts, clothing, fashion accessory, jewelry, dresses, sarong beach wear apparel, musical instruments to retailers and distributors. Products include Bali Indonesian pareo, celtic sarong, tie dye skirts, african kanga, didgeridoo, rainstick, djembe drum, rattle, shaker, maracas, thumb piano, rasta clothing, hippie apparel, Bob Marley jewelry, organic jewelry, pendant, charm, earring, bracelet, necklace, silver jewelry, maxi dresses, bohemian dresses, mini skirts, kaftan, pants, dancing wear, poncho, horn bone wood organic jewelry, wholesale handmade jewelry, body jewelry ear plug, anklet foot jewelry, semi-precious stone, gemstone ring, fashion shawl, jewelry scarf necklace, handbag, barrette hair clip, hair accessory, affirmation banner, bedcover, bronze jewelry, bangle watch, pocket watch, organic piercing jewelry, bone spiral, water buffalo horn jewelry, hanging claw, batik apparel and handicrafts made in Bali Indonesia.