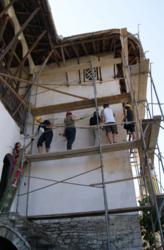 Skenduli monument repairs were made possible due to the financial support of Adventures in Preservation.
Boulder, CO (PRWEB) December 27, 2012
Adventures in Preservation (AiP) is playing a key role in saving the Skenduli House by providing funding assistance to help cover the cost of repair and restoration work. Efforts to save this house, which is one of the most important monuments in Gjirokastra's World Heritage Site, were on hold due to lack of funding. With financial support from generous AiP donors, repairs became possible and the first phase of restoration is complete.
Adventures in Preservation is supporting work at the Skenduli House by partially funding hands-on work camps held at the site by Cultural Heritage without Borders (CHwB). CHwB focuses on training university students from the Balkan region along with select young professionals from within and outside the region.
Educational partners for this building conservation effort are POLIS University, International School for Architecture and Urban Development Policies, and University of Tirana, Master Studies in Cultural Heritage Management. Both universities fully integrate the work camps into their curricula.
Experienced craftsmen from Kosovo led the hands-on work. Fadil Krasniqi led plaster repair of the façade. Haxhi Sefaj specializes in wooden structures and led repair of the entrance gate. Lejla Hadjic of CHwB acknowledged AiP, reporting that "the Skenduli monument repairs were made possible due to the financial support of Adventures in Preservation."
AiP funding covered the cost of cleaning the façade, which involved removing layers of loosened lime wash as well as layers of damaging cement plaster. Areas of bulging plaster were consolidated using lime putty and casein. Areas of missing plaster were restored by applying a traditional mix of lime putty and goat hair. Surfaces were finished with lime wash made by mixing lime putty with ash water and adding water containing brick dust.
AiP financial assistance also allowed for the restoration of the partially collapsed entrance gate. Restoration consisted of retaining and repairing all healthy wood and replacing decayed elements. After repair of the wooden structure, students learned how to lay a roof of stone slates.
Restoration work in Gjirokastra's World Heritage Site will continue in 2013, with the next session at the Skenduli House scheduled by CHwB for April 20 – May 4. AiP will have sessions scheduled in 2014. For additional information on ongoing historic preservation efforts at the Skenduli House, contact Judith Broeker or visit adventuresinpreservation.org.
Adventures in Preservation is a non-profit organization connecting people and preservation through enriching experiential programs. AiP's one- and two-week hands-on volunteer vacations give travelers the opportunity to truly experience their destination while learning and using hands-on skills. Volunteers help save valuable historic buildings vital to economic and environmental sustainability of the project community. Learn more at http://www.adventuresinpreservation.org.
Contact:
Judith Broeker
Adventures in Preservation
303.444.0128
jbroeker(at)adventuresinpreservation.org
http://www.adventuresinpreservation.org