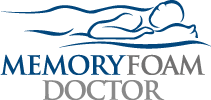 Memory Foam Doctor and Tessilform put a premium on quality sleep.
Miami, FL (PRWEB) December 26, 2012
Miami-based Memory Foam Doctor, LLC has announced a new partnership with Tessilform Home Wear, a European manufacturer of high quality bedding products designed to provide support and comfort for a healthy night's sleep. The partnership is announced as MemoryFoamDoctor.com expands its product line to include new alternatives to its eco-friendly memory foam mattresses and sleep products.
MemoryFoamDoc.com, now the official Tessilform product sales outlet for consumers and retail outlets in the U.S., will soon launch an exclusive Tessilform section to its website.
Since launching one year ago, MemoryFoamDoctor.com has based its success on its100 percent environmentally friendly memory foam sleep products, priced 30-50 percent below major brand name competitors. Memory Foam Doctor toppers and mattresses provide advanced memory foam quality designed to support, cradle, and enhance circulation for deep, restful sleep.
Through its new collaboration with Tessilform, MemoryFoamDoctor.com will add the Italian bedding manufacturer's ergonomic and therapeutic line of pocket spring, memory foam, aquagel and latex mattresses to the MemoryFoamDoctor.com product line. Memory Foam Doctor will also continue to offer its original doctor-recommended, premium sleep products including memory foam mattresses, toppers, and latex pillows to provide the most comfortable and supportive sleep experience possible.
Memory Foam Doctor and Tessilform put a premium on quality sleep. In keeping with the MemoryFoamDoctor.com's philosophy that healthy, rejuvenating sleep should be available to everyone, its new collaboration with Tessilform will allow it to continue to offer premium sleep products at prices well below those of most competitors.
"Our new partnership with Tessilform comes at a perfect time, as Memory Foam Doctor moves into a new phase of providing high quality, eco-friendly sleep products to our customers," says Ryan Breslow, Vice President of Marketing for Memory Foam Doctor. "Tessilform has created sleep products and accessories that are backed by extensive research on advanced materials to ensure maximum relaxation, durability, and well-being.
"Combined with our line of memory foam sleep products, we can help our customers find the most restful and rejuvenating sleep experience for their needs, and we can do it affordably because we really believe that everyone deserves the best night sleep possible."
For more information and to view the Memory Foam Doctor line of sleep products, visit the website at MemoryFoamDoctor.com.
About MemoryFoamDoctor.com:
Founded by recent college graduate Robert Gilbert and Stanford University student Ryan Breslow, MemoryFoamDoctor.com offers eco-friendly products made from soy-based memory foam, and pillows made with 100 percent renewable latex. More than just the products are environmentally friendly – the company's business model, from the clean manufacturing processes right down to the environmentally friendly shipping methods provide customers with high quality, affordable, eco-friendly memory foam mattresses, toppers, and pillows that produce a low carbon footprint.
MemoryFoamDoctor.com offers a 10 percent cash rebate to customers who purchase a mattress, topper, or pillow and submit a detailed review about their Memory Foam Doctor product experience. For more information on student discount specials or to learn more about Memory Foam Doctor products, visit MemoryFoamDoctor.com
###
PRESS RELEASE
For Immediate Release
Contact: Robert Gilbert
Email: robert(at)memoryfoamdoctor(dot)com
Phone: (813) 817-6127