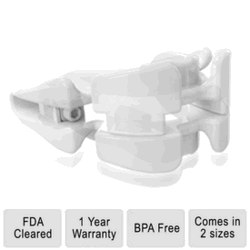 "This is my second order and I have to say I never thought I would get a good nights sleep again until I tried your mouthpiece."
New York, NY (PRWEB) December 27, 2012
VitaSleep is a solution to snoring that now comes in two sizes. This specially designed snoring mouthpiece molds to the unique shape of the snorer's mouth which tailors to the specific needs of each user and is now available in a smaller size that is comfortable for women who snore. Rather than focusing on a "one-size-fits all" mentality, VitaSleep acknowledges that the size of it's anti snoring device should be available to fit both men and women effectively and comfortably.
The VitaSleep mouthpiece for snoring has not only been providing an effective solution to the problems that are associated with snoring, but it has the ability to innovate as consumers need change. While many people readily associate snoring with men, there is a demographic of women that need assistance to stop snoring. There was a point that women who snore were not satisfied with the sizes available in this product. Once The Snore Reliever Company became aware of the issues surrounding sizing, there was a fast response time. In a matter of months, Vitasleep launched a second anti-snoring mouthpiece size that would properly support a female mouth size which is generally 10% smaller in size than a man. There was even a promotional launch of a "his and hers" mouthpiece that was completely customizable for couples. It is because of this focus on the needs of the consumers that VitaSleep has been a solution to snoring that has been helping people who snore.
This anti-snoring product has solidified for consumers that snoring can be properly managed without opting for extreme measures. For some people, VitaSleep is the last resort before choosing more serious approaches. The anti-snore mouthpiece is effective because it is more tailored to each sleeper's specific mouth size and shape to restore an open airway while maintaining proper comfort and support. With a 30 day money back guarantee and a 1 year warranty, consumers have peace of mind and security in this life-changing product.
Throughout the year there have been a number of testimonials that indicate that this product has made a difference in their lives. As one review simply indicates "I would just like to say that VitalSleep saved my marriage." This product is more than a snoring device; it is a product that can largely influence the status of relationships. Another user says "It has worked wonderfully. My wife is thrilled. I never snore anymore!" Now, consumers have the opportunity to have a more meaningful night's sleep with their partner.
VitaSleep has taken snoring solutions to a completely new level with its ability to innovate and stay abreast of the needs of its consumers. With a established results in the market, many people are opting for this non-invasive solution to end snoring problems.
In order to learn more about Vitasleep, please visit http://www.VitalSleep.com.