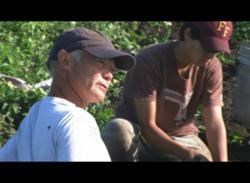 Our desire (is) to promote the whole idea of sustainability.
Brandon, Minnesota (PRWEB) December 26, 2012
In its first three years on the air, Lakes Country Living has championed farmers and ag entrepreneurs who use or support sustainable methods, and are vital players in their own communities.
It started almost three years ago, when Stephen Henning, the show's producer and host attended a conference on the home-grown economy sponsored by Congressman Collin Peterson. This resulted in an interview with Mark Boen, and a video feature story on Bluebird Gardens. "Mark talked about things like nutritional density, trace minerals and the microbial life in the soil that actually have enhanced the flavor of his produce," recalled Henning. "I found Mark's passion to be contagious, and I started to look for like-minded individuals."
Attendees at the conference proved to be a resource for other interesting farm stories, too. Like David Birky, who owns Ag Resource, Inc. in Frazee, MN – a company selling wholesale irrigation systems and equipment. In a casual conversation during one of the breaks, Henning learned Birky also raises grass-fed beef. Ryan Pesch, an Extension Agent who - with the help of his wife, Maree - runs Lida Farm, a small CSA operation, also was featured on Lakes Country Living. "Ryan's enthusiasm and entrepreneurial approach to marketing his produce included several neighboring farms as well – his energy comes across in the interview, and is fun to watch. I'm not from a farm background, but I quickly saw that these people, in reducing the cost of their inputs, were still achieving quality results - and rightfully proud of it," Henning observed.
Other farm stories that have been featured on Lakes Country Living include Forestedge Winery, Cupkie's Christmas Village (a tree farm), Forget-Me-Not Flower Farm, Lakes Area Farmers Market, Leatherwood Vinegary and Moll's Berry Farm. A short video on the show's YouTube Channel featured Brookside Dairy; although not on the television, the video has gone viral.
Not all stories are specifically about a farm, but may be directly related to the connection between local farms and their hometown communities. For example, one featured Meadowfarm Foods, and was filmed when the retail store was observing Earth Day by giving educational tours to customers and visiting school groups. Another story profiled Wadena's Harvest Thyme Bistro – a restaurant offering locally produced foods, year-round.
Last January, Henning was hired to do a video for a fertilizer manufacturer, and it proved to be a new source of story material. "We filmed a soil seminar by Growers Mineral Solutions, and met several different farmers – some raising row-crops, some dairy and beef operations, and master gardeners – who we hope to feature in the coming months. It fits in perfectly with our desire to promote the whole idea of sustainability. The stories just go on and on."
Lakes Country Living is a half-hour made-for-cable video magazine featuring stories of outstate Minnesota. Hosted by nationally acclaimed landscape painter Stephen Henning, the show's topics usually include the arts, agriculture, Main Street entrepreneurs, local history, natural resources and outdoor recreation. Particular attention is given to conveying local flavor.