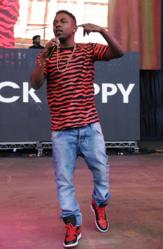 Philadelphia, Pa (PRWEB) December 27, 2012
This has been an exciting year for breakthrough artists, so exciting that MME has put together a list of the best this year.
First on MME's list is Kendrick Lamar. Not many artists can go the route where you can release an album independently, and have the album do so well that that artist is signed to a major label. Kendrick is number one on MME's list because of his lyrical style and originality in the topics he chooses to rap about, unlike most artist that rap about drugs and money, Kendrick seems to drift away from that and talk about more personal things with his music. Kendrick is also often compared to legendary rapper Tupac Shakur.
Second on MME's list is Philadelphia Rapper Meek Mill. Meek Mill brings a spectrum of his own to Gangsta Rap. The way his high pitch voice flows with the track makes the listener feel as if he is never going to stop. An example of this is his Dream's and Nightmares intro which he seems to literally lose it, but incredibly Meek keeps the flow going and never stops. Meek Mill is one of the few rappers that can rap an entire track giving off an angry emotion, but still retain that cocky essence.
Third on the list is rapper 2 Chainz. When an artist shows good work ethic, you can tell. This artist has released several mixtapes, and has not stopped doing so until he was ready to release a record like "Based on a T.R.U. Story" which was a commercial success. Lyrically there is a lot to say about 2 Chainz when it comes to punchlines, and the Birthday Song speaks for itself.
Fourth rapper on the list is French Montana. This is another rapper that shows work ethic, with a total of 21 mixtapes. French Montana has risen to the top with a strategy that is obviously working for him and that strategy is to have as many feature songs as possible until you get noticed by the masses. Another good thing about French is his flow. The rapper has a bit of an accent in his voice that is both barely noticeable, and complies with the instrumental.
Last but not least is Vyrotek. This artist is completely underrated and he has earned a spot on our list based on the fact that he tends to become really personal with his lyrics. In his song "The Things I Wanna Say to You" it is clear that he is talking about someone that has abandoned him and Vyrotek tends to get really specific in the song, and at the same time not sound "cheesy." Vyrotek is currently working on another album and in a recent talk with MME Vyrotek stated that he hopes to get discovered by the masses with his new release. On another note, Vyrotek has also stated that he wanted to go Diamond (10 million records sold) at least once in his career, and wanted to congratulate Adele on her Diamond Certificate.
Massive Music Entertainment, specializing in the delivery of the best news possible.