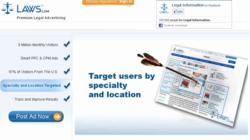 Probate lawyer listing allows visitors to search probate lawyers and probate law firms in the USA.
New York, NY (PRWEB) December 28, 2012
Laws.com, one of the fastest growing legal sites, announced the launch of the probate lawyer listing service. The probate lawyer listing allows visitors to find probate lawyers and probate law firms in the USA. Probate attorneys and law firms operating in the USA can list their service on laws.com.
Laws.com probate lawyer listing provides two kinds of listing services to lawyers: free lawyer listing and featured listing. Free probate lawyer listing offers unique profile URL and regular lawyer listing. The lawyer profile page comes with a unique URL which the lawyer can share in blogs and social networks.
Below are the features of the probate attorney profile page:

allows the lawyer to enter multiple practice area
allows the lawyer to display contact address promptly on the profile page
option to upload and display lawyer photo
option to post one direct link to lawyer website
visitor can save the lawyer contact as a visiting card
about us column in profile allows the lawyer to add a brief about the lawyer and the law firm
option to add lawyer education and experience
get direction box in profile page promptly displays directions to lawyer office using Google maps
built-in attorney email form allows the visitor to contact the attorney through laws.com
Laws.com feature listing allows the probate lawyer listing to appear above the regular lawyer listing in the probate lawyer listing page. The lawyer can select feature listing for a specific city and area of specialization that the lawyer is interested. Once city and area of specialization is selected, the lawyer information is listed whenever a visitor from the selected city searches for the probate lawyer. Apart from listing, the lawyer profile is also featured alongside the probate law section content in laws.com. To create a probate lawyer listing, click lawyer advertisement sign up.
No confidential attorney-client relationship formed by using Laws.com. To access the probate lawyer listing and to find a probate lawyer, go to: http://lawyer.laws.com/probate-lawyer.
Laws.com is one of the fasting growing lawyer listing and lawyer search services. The site hosts a large database of legal forms in printable PDF format and allows the user to download the form for free in a printer friendly format. The site court case section lists various court dockets and famous court cases.