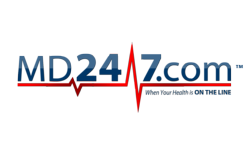 MD247 Hosts Brand Awareness Contest!
(PRWEB) December 26, 2012
In a push to continue building brand awareness regarding the field of telemedicine, MD247 announced that it would be awarding $1,000.00 to the 5,000th fan for the MD247 Facebook business page. The winner will be determined using a record of all likes, as provided by Facebook to each business maintaining a Facebook business page on the social media platform. It will also be possible for each person who likes the page to nominate a referring friend, in the form of an existing MD247 Facebook page, as a potential winner of an extra $1,000.00 prize being offered as incentive to current fans.
The MD247 social media team will be making weekly posts to initially build interest in the prize, and the contest will eventually be shared on a daily basis. The contest will be running December 24, 2012 through March 01, 2013, and MD247 is allowing both employees and anyone else interested in the MD247 program to participate in the contest.
All people interested in participating in the MD247 contest for $1,000.00 should visit the MD247 Facebook business page at http://www.facebook.com/md247dotcom. If a new fan has been referred by a friend, family member, acquaintance or next door neighbor they must make a Facebook post stating "____ referred me." Failure to make a post indicating the referring fan will automatically eliminate that referring partner from a chance of their own at $1,000.00.
Seminole Florida based MD247 (MD 247; MD/247; M.D. 247; MD247.COM) provides discounted telemedicine healthcare services nationwide to families, and discounted wholesale telemedicine healthcare to businesses. MD247 has successfully provided 25,000 people the ability to chat with a doctor twenty-four hours a day, talk to a nurse twenty-four hours a day, receive discounted prescription drugs and receive discounted in-person healthcare services. In addition to discounted healthcare services, MD247 provides support to groups supporting the employment of veterans of the United States Armed Services. MD247 services, as well as informational blogs, can be found for review online at http://www.md247.com.