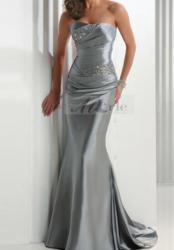 (PRWEB) December 26, 2012
Recently, MerleDress, has proudly introduced its 2013 cruise dress 2013 collection, and has launched a cruise dress promotion, of up to 40% off for the holiday shopping season.
The new collection includes many of the latest designs, including sheath column bateau beaded knee-length satin dresses, sexy strapless beaded sleeveless short mini taffeta dresses, V-neck beaded dresses, and so on. MerleDress works hard to give each lady a chic new look with its fresh designs.
Donnie Terry said, "Whether you plan to cruise to the Caribbean, or had a cruise trip planned to the Mediterranean or Alaska, one of the most frequently asked questions from first-time cruisers is 'what clothes shall I take?' If you are looking for a formal cruise dress for those nautical nights, find it here in a variety of styles and colors that will make the occasion special."
In addition to a wide range of wedding dresses, MerleDress has also announced that they will carry a huge selection of cheap date dresses and evening dresses.
Moreover, MerleDress has launched a cruise dress promotion, of up to 40% off, which lasts from Dec. 26, 2012 to Jan. 15, 2013. MerleDress hopes to show their appreciation to their loyal customers in the holiday shopping season.
About MerleDress
MerleDress is one of the best online shops for buying wedding dresses and special-occasion dresses at acceptable low prices. They are devoted to helping couples design their own wedding dresses without sacrificing top-quality materials or a fast delivery.