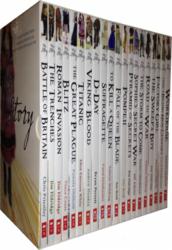 Leicester, England (PRWEB UK) 29 December 2012
This is a 20 book set covering 20 historically significant events in history, such as the Pyramids and ancient Egypt, Pompeii, the Great Plague, and more!
This giant My Story Books Pack Set lets you relive significant events in history. As your imagination transports you to Pompeii, the Titanic, and the Great Depression you'll see the mighty Vesuvius spew lava, feel the great ship hit the ice berg, and hear the cries of hungry children. No longer will you wonder what it was like to live in such perilous times!
The diary fiction format of the My Story Collection retells these historic stories in a way that is both captivating and educational. Young readers will be spellbound by this series and excited to start a new book. Each story is educational in an exciting and interesting way.
My Story Published by Scholastic, this intriguing collection of stories will captivate readers of all ages. The My Story Collection Box Set Pack comes in Paperback, with all of the stories bound together by a convenient, eye appealing hard slipcover.