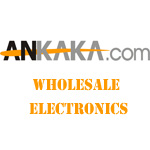 Ankaka is a professional wholesaler offering China new electronics for global resellers and dropshippers.
Shenzhen, GuangDong (PRWEB) December 28, 2012
Ankaka Wholesale Electronics is a professional electronics wholesale supplier that offers a wide range of Chinese electronic products to drop-shippers and global resellers; the firm has launched a new social media contest this festive season, with loads of exciting prizes to be won.
Consumer Electronic items from China have always been in great demand in the global markets. Ankaka Wholesale Electronics has been one of the consistent global suppliers of Chinese consumer electronics to different resellers and drop-shippers. Since, 2005 the firm has worked in collaboration with more than 400 electronics manufacturers in China, which has helped in supplying a wide range of electronics products to traders across the world.
Recently, Ankaka has launched a new social media based campaign for promoting various products in its inventory. Fans can promote the products on different social media platforms like Facebook, Twitter, Pinterest, Google+, and Youtube, and stand a chance to win exciting prizes of up to $200 per campaign per person.
Ankaka has been flourishing in the industry of wholesale electronics. Taking pride in a big list of customers, the marketing head of the company commented - "Our customers include corporate buyers, famous ecommerce online shops, eBay power-sellers, international wholesale importers, local retail shops, and drop-shippers. As Ankaka is steadily growing, we are confident that we will become a leader in the Chinese wholesale electronics business, and even rule the global bandwagon too."
Ankaka also offers up to a twelve month warranty on most of its products, which is a rare sight with wholesale electronics from China.
The order guide offered by the website is seamless and provides extremely simple-to-understand navigation options. Talking about the quality of Ankaka, the CEO of the company said - "Our sourcing and quality control teams are full of skilled professionals and key members who have made great contributions to other sites you may have had experience with. Instead of spending large amounts of money on advertising and marketing, we focus on sourcing the best products for our resellers, and ensuring the highest product quality, making it a win-win situation."
The firm has been offering competitive pricing on most of the electronic items, and the marketing manager gave insight into their process, explained how it manages to offer great pricing, and commented – "Having partnered with more than 400 Chinese Electronics Manufacturers for many years, we are able to get the best possible prices from them. And, you can take my word that you will find that prices from our warehouse are even more reasonable than closeout sources in your local markets."
Baby fetal heart rate monitor cum reader Doppler and Wallet-size mini-portable pocket-LED card light lamp are two of the top-selling products in Ankaka's current portfolio.
About the Company
Ankaka Wholesale Electronics is a wholesale supplier of Chinese electronics goods and it caters to international traders all over the globe. Founded in 2005, the company has partnerships with over 400 Chinese electronics manufacturers, and it has been growing at a steady rate over the past 7 years.
Know more about Ankaka on http://www.ankaka.com/