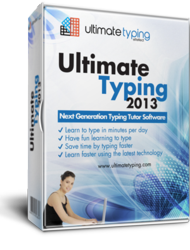 ...this software really proves to be a very helpful tool, especially for those who are taking up the task of earning their bachelor degrees.
New York City, NY (PRWEB) December 30, 2012
As the developers at eReflect know, computer-based training is very convenient, since many people already spend a lot of time in front of the computer. But many computer users naturally assume that they already are experts at typing, even when they're trying to type just using two or three fingers. To be able to take full advantage of the e-learning environment, students need to be able to touch type. Those who do acknowledge the difference touch typing can make in their lives often decide to enrol themselves in typing school just to get the skill down pat.
However, not everyone has the time or the resources to add another course to their busy schedule. The good thing is that there are tutorial programs available online which can address this particular need. The recently-released Ultimate Typing tutorial software system from eReflect is designed to provide the most useful information in the shortest period of time. Ultimate Typing comes with high recommendations from professionals and learners alike. Online-Bachelors-Degree-Success.com, for example, puts in a good word for Ultimate Typing, having tried the product for themselves.
According to their review, this software really proves to be a very helpful tool, especially for those who are taking up the task of earning their bachelor degrees. Whether it be at a community college or at a university, the curriculum is pretty much the same in one respect: there will be a lot of paper-writing involved. Knowing how to touch type can help any student get this task done in half the time.
The review reiterated that the important thing here is for the students learn to maximize their time on the computer, writing up papers, documents, project plans, and other requirements. The sooner the student gets one thing done, the sooner they can move on to the next. It's a good training ground in efficiency, especially for those who may be working in an office all day long in the future.
What's great about Ultimate Typing, Online-Bachelors-Degree-Success.com also said, is that it does teach the learner to be as efficient a typist as possible. The user-friendly interface also makes it versatile enough for use by both children and adults. So whether the user is a college student looking to catch up on the teacher's discussions faster through touch typing, or a young child wanting to get a jump on the competition by learning touch typing early on, any student will be sure to benefit from this program.
For more information about the Ultimate Typing software, visit http://www.ultimatetyping.com/.
ULTIMATE TYPING SOFTWARE is a tutorial program designed specifically for the improvement of typing skills. It was created by eReflect, a world leader in e-learning and self development software.
Since its creation in 2006 by its director, Marc Slater, the company has already catered to over 112 countries all over the world, offering products with the latest cutting-edge technology, some of which are among the world's most recognized and awarded in the industry.