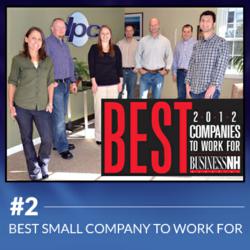 "Because of our IT and embedded recruiters' success and commitment, we have flexibility to put policies in place to focus on work-life balance, health, and just enjoying work." - Jessica Catino, DPC president
Exeter, NH (PRWEB) December 27, 2012
NH embedded recruiters Digital Prospectors Corp (DPC), which builds teams of highly qualified IT and engineering professionals for contract and permanent IT positions, is one of the best small companies to work for in New Hampshire, according to "Business NH Magazine."
The state-wide business publication ranked DPC #2 on its list of top small companies in NH to work for, citing DPC's policies of unlimited sick days, $125 per month for gym fees, fully paid health insurance, a week off between Christmas and New Year's, and 90-minute lunch for people who work out.
DPC President Jessica Catino credited employees of the embedded recruiter for the designation.
"We have a tremendous team of IT and embedded recruiters including the folks who support them," Catino said. "Because of their success and commitment, we have had the flexibility to put some policies in place that focus on work-life balance, health, and really just having fun at work."
DPC, which specializes in placing embedded systems engineers in DoD positions as well as Healthcare Information Systems IT professionals, was also named #2 on the "Business NH Magazine" List of Best Small Companies to Work For in 2007.
DPC was also listed as one of New Hampshire's top 100 private companies earlier this year. The embedded recruiter has also been listed on the Inc. 5000 each year since 2007. Digital Prospectors Corp has grown to 11 employees and has been in business since 1999.
Business NH Magazine also noted DPC's involvement in the community including a Thanksgiving volunteer effort when the entire company shops, packages and delivers holiday meals for 30 area families. DPC is also a supporter of NH charities Families in Transition and Families First Health and Support Center.
About DPC
With clients in industries such as aerospace, defense, healthcare and more, DPC has become known for its success in recruiting and placing engineers and IT professionals in the software, firmware, hardware, mechanical and electrical engineering markets. DPC's primary technical focus areas are in embedded systems engineering, health information systems, and web services/cloud computing. Since DPC's founding in 1999, the firm has been recognized as a "Best Company To Work For" by Business NH magazine, a "Top IT Services Company" by Inc. Magazine, a "Most Reliable Staffing Agency" in Forbes Magazine, a "Top Ranked Staffing Firm" and "Fastest Growing Staffing Firm" by Staffing Industry Analysts, and a "Top Diversity Business" by DiversityBusiness.com.
Media Contact: Don Catino, 603.772.2700 or dcatino(at)dpcit(dot)com.